Swaraj Film Production presentation VARHADI VAJANTRI music and trailer were launched recently in presence of cast and crew. The film is directed by Vijay Patkar. On the occasion music director Avinash-Vishwajit, Shashank Powar and Dr. Ganesh Chandanshive were present along with Makrand Anaspure, Pandhari Kambali, Vijay Kadam, Ananda Karekar, Purnima Ahire, Rajesh Chitnis, producer Captain Kalpesh Ravindra Magar, co-producer Atul Rajaramsheth along with other dignitaries. The film will release on 11 November 2022.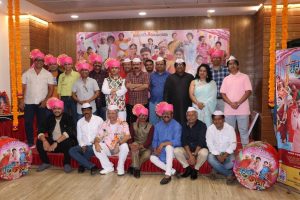 The film has three songs are composed by Avinash-Vishwajit and Shashank Powar. The songs are rendered in the voice of Adarsh Shinde, Nandu Bhende, Anandi Joshi, Maithili Panse-Joshi and Dr. Ganesh Chandanshive who has sung the title song. The songs are written by Rajesh Bamugade.
Veteran actors Mohan Joshi and Reema Lagoo has danced on the song "Choo Mantar Choo" which is choreographed by Umesh Jadhav. "Don Jeevachi Hoina Bhet" is picturised on Hemangi Kavi and Paddy aka Pandharinath Kambali, choreographed by Rajesh Bidwe.
VARHADI VAJANTRI stars Makrand Anaspure, Mohan Joshi, Reema Lagoo, Hemangi Kavi, Pandharinath Kambali, Vijay Kadam, Priya Berde, Jaywant Wadkar, Ananda Karekar, Sunil Godbole, Purnima Ahire, Ganesh Revdekar, Prabhakar Moray, Prashant Tapsavi, Rajesh Chitnis, Jaywant Bhalekar, Vinit Bonde, Shivaji Redkar, Ashutosh Wadekar, Sheetal Kalahpure and Sakshi Paranjape.
The story, screenplay and dialogues are written by Vaibhav Arjun Parab, cinematography by Shailesh Avasthi, editing Saloni Kulkarni and Hemant Gaikwad, art direction by Girish Kolapkar, costumes by Geeta Godbole and Purnima Oak, background score by Ravindra Kharat, make-up by Ajit Pawar. The film is produced by Captain Kalpesh Ravindra Magar, co-produced by Atul Rajaramsheth Ohal. Indurao Kodle Patil is executive producer and Manoj Sahdev is co-director.
Shekhar Bhagat is done by sound designing, Ram Kondilkar is PRO, Tushar Rothe has done digital marketing and branding. Post production is done at Digiton and the film distribution is done by Jayesh Mistry of UJM Networks and Entertainment LLP.