Few days back MAN KASTURI RE film's song "Naad" was launched with rocking concert. The song is receiving overwhelming response on social media. Now the makers have launched the trailer in presence of cast and crew. On the occasion lead actors Abhinay Berde and Tejasswi Prakash.
Every child from an ordinary family has some dreams, a home of your own, a good job, a smile on your mother's face. The story of MAN KASTURI RE is about Siddhant, who lives with the same dream, loves his mother. While studying in college Siddhant also works for his family's bread and butter. One day Shruti comes into his life and his whole life gets change. Shruti and Siddhant loves each other but get departed because of an incident. What happens next you have to watch the film.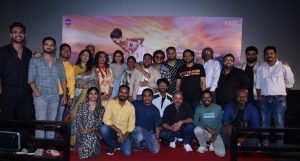 The film stars Abhinay Berde, Tejasswi Prakash, Veena Jamkar, Tushar Ghadigaonkar, Ajit Bhure, Vinamra Bhabal, Aasit Redij, Kiran Tambe, Praful Sawant, Abhijeet Kulkarni, Dhanashri Antarkar and Aakash Mithbavkar along with Rajshri Deshpande in guest appearance.
The dialogues are written by Sumit Giri, cinematography by Rohan Madkaikar, music composed by Shorr, choreography by Rahul Thombre, editing by Manish Shirke, costumes by Smita Koli, make-up by Kshitij Shinde, art by Satish Gawali.
Directed by Sanket Mane, MAN KASTURI RE will hit the theaters on November 4. Helmed by Nitin Keni, presented by Mumbai Movie Studios, produced by Venkat Attili and Mrityunjay Kichambare's Imens Dimension Entertainment and Arts, the film is co-produced by Nisheeta Keni and Karan Konde of Dragon Water Films. The distribution will be done by UFO Cine Media Network and the music exhibition will be handled by Tips. Nitin Keni has previously helmed the production of many super hit films including 'Sairat', is the presenter of MAN KASTURI RE. Rohit Shilwant is creative director and Raju Zende is executive producer.