OTT, which has become an integral part of the Indian entertainment world for the past few years, has been revived in the Corona era, and today the roots of this world have deeply embedded into the hearts of the fans. Along with movies in theaters, movies on OTT are also entertaining the audience to the fullest. Along with this, the web series has also created a different place in the minds of the fans. With the introduction of new OTT platforms to serve the fans, the digital world has become fiercely competitive. In this tough competition, a new OTT is joining with the aim of presenting attention-grabbing content while nurturing the audience's choice. The name of this new OTT is Amol TV.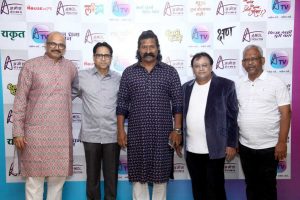 On the occasion of Diwali Padwa, Amol TV was announced with a logo launch at CityPride Kothrud in Pune. Producers Sanjay Parekar and Sachin Parekar, who have won national awards during their brilliant journey from film production, drama production, serial production to distribution in the past many years, have established the era of Amol TV. Actor Vikram Gokhale, actress Varsha Usgaonkar, actor- wonderful spectacle of pure entertainment. Amol TV is going to do the work of providing content that is different from the Marathi OTT platforms that are at the service of the fans today and that has never been exposed before. As the name suggests, the content on this OTT is priceless. All kinds of entertainment programs will be shown on it and it will be broadcast in 190 countries around the world. Parekar also said that provision has been made through Amol TV that the audience of all ages will definitely find something their likings here.
Sanjay Parekar and Sachin Parekar have so far produced movies on different subjects through Amol Production. The Marathi film 'Lapandav', produced by Amol Productions, has carved its name on the National Award. Apart from this, the films 'Shejaari Shejaari', 'Kshan', 'Prem mhanje prem mhanje prem asta' have also been produced under the banner of Amol Productions. Now by taking a new step through Amol TV, efforts will be continued to make more spectacular progress in the future.