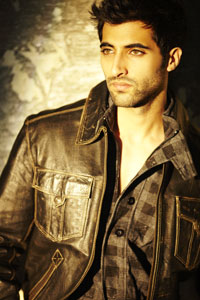 Akshay Oberoi is son of Krishna Oberoi, brother of Suresh Oberoi. His career graph in US was full of powerful appearances in the plays Book of Days, The returning, Marriage of Bettie and Boo where his act was appreciated by one and all. He is debuting with Rajshri Production's ISI LIFE MEIN.  Glamgold met the dude on the eve of release.
–VIPUL K. SHAH
GG) When you felt to become an actor?
AO) I love to watch films. I was focused to act always. I have decided to work in Hindi Cinema since I was ten years old.
GG) What was reaction from your family?
AO) Dad is my biggest support. He has supported, helped, guided me everytime. He has sacrificed much for me. He stands by me very strongly on every turn.
GG) Have you joined any school for acting?
AO) I learnt acting in Johns Hopkins University in Baltimore in USA and did Bachlor of Arts, Theater and Acting. I have worked with Jim Glossman, Krista Smith, (Broadway Directors), etc. I have undergone for training in Playhouse West, LA, USA to learn Meisner Technique.I also continued my studies in Economics. I was there in US for five and half years.
GG) Then?
AO) I returned to India. I started with plays in Prithvi Theatre. I also took training from Kishor Nameet Kapoor. Then the struggle began.
GG) Was it easy for you as you have film background?
AO) It could be but I wanted to do on my own. Whenever I go for audition I never say my surname unless somebody asks.
GG) How was your struggling period?
AO) I gave audition for eight films. Out of those in six I was passed. But some or the other reason it did not worked. Two films did not even start. Then I got my ninth film ISI LIFE MEIN which took off.
GG) How did get the film?
AO) Once I met writer Ashq Atalji who told me about the audition for ISI LIFE MEIN. He has written dialogues for Rajshri's film VIVAH. I went where Raj Gupta took my audition. After five months I got call from Surajji to meet him. Again he took my audition and look test. He liked     it very much. He then asked me 'Will you listen the narration'? I felt extremely happy. Vidhi Kasliwal then narrated the story.
GG) Tell us about your character.
AO) I am playing Vivan who is less interested in studies. He is chairman of Dramatic Society in the college. He has his own way of thinking. When his father says to concentrate on studying he says get out of my life. Its my life.
GG) How much Akshay relate to Vivan?
AO) Very much. Vivan has also passion for acting and does plays in the college.
GG) How was your experience doing ISI LIFE MEIN?
AO) I enjoyed doing this film. The journey of one year was amazing.
GG) How was your experience working with debutant director Vidhi?
AO) For her only one word comes in my mind that is perfection. She always explained character and scene with clarity.
GG) Surajji use to come on the set?
AO) He came for once or twice on the set. He use to guide Vidhi sitting in the van. But he never interfered.
GG) How do you feel working for Rajshri Productions which is famous for traditional films?
AO) Rajshri makes honest and sweet films. ISI LIFE MEIN is also such film. I know it is time of hot films but there is place for sweet and lovely films. That is for sure. This film has different freshness. It is modern youthful film. I always wanted to do young, youthful and fresh film. I am lucky to get this film.
GG) Which scene was most difficult for you?
AO) There is one song shoot in the club. I have to do it in rain being shirtless. Water was very chilled so tough was the shoot. It is a rock song 'Live Out Loud…'
GG) How was it working with young youthful unit?
AO) Oh great. Last day of the shoot when Vidhi told pack up nobody moved for four hours. We laughed, we cried…That much strong bonding was among us.
GG) Where did the shoot happen?
AO) 20 to 25% in Rajsthan, the rest in Mumbai.
GG) Do you feel insecurity as your dad did not succeed as actor?
AO) No. I feel bad Dad could not succeed as hero but I do not have any insecurity because of that. I just want to work with fierceness.
GG) After Salman Khan Rajshri is introducing you. Do you feel you will be compared with him?
AO) I am die hard fan of Salman Khan. I am happy same production house is launching me. He is a star and I am trying to be part of the industry. In fact I think he should not feel bad to be compared with newcomer like me.
GG) Will you like to do film with Vivek in future?
AO) Of course yes. I will be happy to do. He is great actor. If you act with better actor you get to learn a lot.
GG) What is next?
AO) Talks are going on for two projects.
GG) What is your wish to be fulfill in Isi Life Mein?
AO) (laughs) I wanted to start with big banner and that wish has been fulfilled with ISI LIFE MEIN.