Actress Smita Barot debuts as producer with upcoming Gujarati film GUJARAT THI GOA. The lady based in Surat feels lucky to fulfill her wish to launch production house and she gives credit to her husband Bharat Barot (Brahmabhatt) for his full support and guidance.
Recently when met her on the set of GUJARAT THI GOA being produced under her production house Smit Vandan Film Production, she talked about her journey and the film in which she is action also.
"I have been fascinated with films since childhood. Even when I was young, I dreamed of seeing myself on the screen. The joy of my dream came true today is beyond words. However, I will give credit to my husband Bharat Barot (Brahmbhatt) for making my dream come true. I would not have been able to get here without his support and encouragement," says Smita.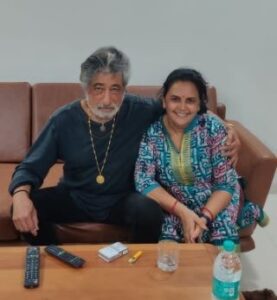 As a producer, Smita Barot shares her experience, "To be honest, I am getting the full support of the entire unit as well as the guidance of senior artists. Here I need to mention our director Rajdeep. He is not only a director but also a mentor. Rajdeep Saheb has a distinguished reputation in the Gujarati film industry as an actor-director."
GUJARAT THI GOA stars Akshat Irani, Yash Shah, Tanu Rathod, Hridaya Singh, Sahil Khan, Shekhar Shukla, Meenakshi, Atmaram Tripathi, Shahrukh Sadri, Bharat Brahmabhatt, Smita Barot, Vandana Rawal, Amy, Dimple, Aasmi, Raju Panchal, Diving Rawal, Jagrutibahen, Praveen, Roshni Rathod, Ashish Sukhadwala along with ace actor of Bollywood Shakti Kapoor and Rajdeep.
There are very few women producers in the Gujarati film industry, one of whom is Smita Barot. "I am not in the industry for a hobby but I want to make films with diverse themes that entertain the audience with a social message. And that's why I set up our production house, Rajsmit Films and Entertainment. We are working on a Gujarati film project under the banner which will be based on women empowerment. I will not give more information about the story. But the special thing about the film is that in the entire unit of the film, from all the technicians, the producer will be women. There will not be Spotboy but you will be surprised to see Spotgirl on the set. Only three male actors will be seen in the film as the story needs. We are planning to go on the floor in June-July. I am also co-producing two short one of which is 'One Click Please' which is dedicated to all photographers," concludes Smita.