Dharmessh Mehta, the director of the super hit film 'Pappa Tamne Nahin Samjay', is now bringing his first laughter film 'Jaysuk Zdpayo' as ​​a producer. The music and trailer of 'Jaysuk Zdpayo' was launched recently in Mumbai with the presence of the film's cast and crew, celebrities from Gujarati film industry as well as dignitaries from other fields.
Starring Johnny Lever, Jimit Trivedi, Hardik Sangani, Pooja Joshi, Anang Desai, Sanchi Peshwani, Monaz Mewawala, Sangeeta Khanayat, Purvi Vyas, Hemang Dave, the film will release on 3 June 2022.
Regarding the film, producer-director Dharmessh Mehta says, "Audience watch the films for entertainment to get relaxed and fun and 'Jaysuk Zdpayo' is full roller coaster film with big dose of laughter. I am sure the audience will definitely enjoy the film."
Talking about the music of the film, Dharmessh says, "The album of 'Jaysuk Zdpayo' have three numbers of different moods and genre. The title song is sung by Sukhwinder Singh who has sung Gujarati song for the first time. The song has mix flavor of Kathiyawadi, a composite of Kutchi Rajja and he has sung in his own style which is perfect for the situation in film. The groovy beats will make audience feel liking dancing."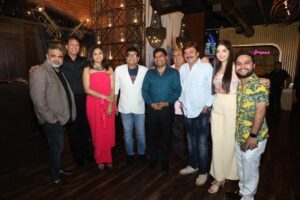 The second song has a retro theme sung by Bhumi Trivedi with a light yodeling. Audiences, especially the young class, will be in a romantic mood listening to this song. The third number is very special as it is a romantic song sung by Javed Ali and Palak Muchhal. The song was recorded live with fifty five instruments and the best composers of India. The song has been filmed in a beautiful location in Kashmir. This is the first time that a song from a Gujarati film has been filmed in Kashmir," Mehta adds.
The lyrics have been penned by the talented poetess Medha Antani and the composed by Kashyap Sompura. The album is released by Zee Music.
The story of 'Jaysuk Zdpayo' with tagline "Ek Khotukali Love Story" is written by Amit Aryan, dialogues by Sanjay Chhel, a leading name in Bollywood. The film is produced by Dharmessh Mehta under the banner of Naman Raj Production and co-produced by Samir Doshi, Praveen Bohra and Minesh Shah.