After getting applauds in many International and National film festivals now Nikhil Mahajan directorial upcoming Marathi film GODAVARI is slated to release on 11 November 2022. Recently the trailer of the film was launched by deputy chief minister of Maharashtra Mr. Devendra Fadanvis in present of many celebrities.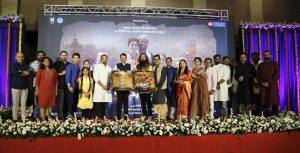 Actor Jitendra Joshi has made his production debut with the film GODAVARI and the film has been directed by 'Pune 52' fame Nikhil Mahajan. GODAVARI is a combination of Nikhil Mahajan's directorial debut and Jitendra Joshi's selection of sensitive films as an actor. Deputy chief minister of Maharashtra Mr. Devendra Fadanvis gave best wishes to the team of the film.
Blue Drop Films and Jitendra Joshi Pictures presentation GODAVARI is produced by Pawan Malu, Mitali Joshi and co-produced by Akash Pendharkar and Parag Maheta. The film stars Vikram Gokhale, Nina Kulkarni, Jitendra Joshi, Gauri Nalawade, Priyadarshan Jadhav, Sakhi Gokhale and Sanjay Mone. The screenplay is written by Nikhil Mahajan and Prajakt Deshmukh and the dialogues are penned by Prajakt Deshmukh. The songs written by Jitendra Joshi, music by A. V. Prafulchandra.
About the film, director Nikhil Mahajan said that for a long time, the best family story has not been told in a Marathi film. Through this film, we will be able to experience the story of a family situated on the banks of Godavari river in Nashik and the closeness of that river.
Godavari is the story of Nishikant (played by Jitendra Joshi), a man who has wandered away from his family, lives a non-existent life, and finds answers to all these complex questions near the river Godavari, which he hated for so many years.
Pune International Film Festival 2022, Nikhil Mahajan was awarded the Best Director Award and Shamin Kulkarni the Best Cinematography Award. AV Prafulla Chandra won the Special Jury Best Music Award. Godavari also had its world premiere at the Vancouver International Film Festival 2021 and its Asia Pacific premiere at the New Zealand International Film Festival 2021.