With the onset of the happy news of the scheduled opening of cinemas in Maharashtra, Hindi as well as Marathi films of different production houses are queuing up to screen their films on the screens. The release dates of the films awaiting release from last year are being announced one after another. The release date of the widely discussed Marathi film Darling produced under the banner of 7 Horse Entertainment Pvt. Ltd has also been announced. V. Patke Films and Kathakar Motion Pictures presentation Darling will release on 10 December, 2021 in the cinemas. It has been produced by Amit Dhupe, Ajay Thakur, V.J. Shalaka and Nikhil Khazindar.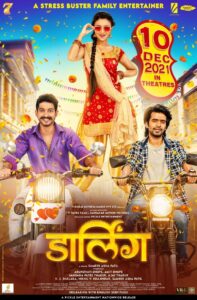 Ever since its announcement and muhurat, Darling has been a subject widely discussed in the movie world and by the audience. Sameer Aasha Patil has directed the film. Till date, Sameer has directed in his own unique way films that have widened the cinematic canvas and horizons of the Marathi film world. Hence, the expectations of all quarters have grown from Darling. The trailer of Darling, which had been postponed due to the lockdown of 2020, has received a thunderously positive response.  Whether it is Darling's title song 'Darling Tu…' or the romantic song 'Yeh Hai Pyar…', through the medium of songs and music too, the film has reigned over the minds of the movie lovers. The actual hero of the movie is its story, which heightens curiosity at every moment. The story has received the on-screen support of Maharashtra's beloved actor Prathamesh Parab, who is its protagonist. Ritika Shrotri, who was his co-star in the hit film Takatak, plays the role of his darling in the film Darling. With Darling, the pair is ready to mesmerize and fascinate the viewers again. Fans will also again get an opportunity to experience the lively on-screen chemistry of the duo in the film, which has also received the stellar support of actor Nikhil Chavan of Lagira Zhala Ji and Karbhari Lai bhari fame. Within a brief period, Darling, a complete entertainment package, will be of service of the fans.
Sameer Aasha Patil has also written Darling. In the film, apart from Ritika Shrotri, Prathamesh Parab and Nikhil Chavan, actors like Anand Ingale and Mangesh Kadam also enact key roles. The music director duo Chinar-Mahesh has composed the melodious music for the film. In fact, the plan was to release the film on Republic Day this year, but lockdown thwarted the plan as it is only now, that the menacing clouds of Coronavirus have gone far away. The release partners of Darling are Pickle Entertainment's Sameer Dixit and Rishikesh Bhirangi, who will also share the responsibility of its distribution.