Actor Himanshu Malhotra played the role of Major Rajeev Kapoor in Sidharth Malhotra and Kiara Advani starrer Shershaah. Those who have seen the film know that he has put up a commendable performance; the audience and critics have praised Malhotra's work. Himanshu has few important scenes in the film one in which he is talking to Sidharth Malhotra, aka Vikram Batra, and then in the final scenes when Himanshu delivered a strong war cry when Vikram Batra's last rite was being performed.
The film completed a year on 12th August and he has shared his emotions for the film. He says, "It's a really magical, beautiful, heart wrenching film for me. I spent almost a year shooting in Palampur, Kargil and Chandigarh. I remember article 370 was going on during that time so there was no Internet, no phone calls. So all we did was have our own music jamming sessions and have our meals together. This film also introduced me to actors like Sidharth Malhotra, Shiv Pandit, Niketan Dheer who later on became my friends. Travelling together, exploring new places through all this has helped us create a lovely bond."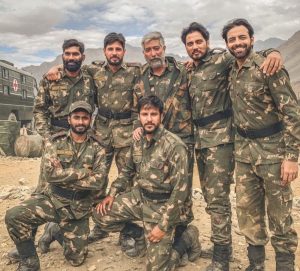 He also adds, "On the set, director Vishnuvardhan and writer Sandeep Srivastava were always active and on their toes. Their hard work is truly appreciated. And then there's the assistant directors like Altamash and Salman whose efforts have made us all comfortable. And after we saw the film after the shooting, it was such an overwhelming experience. Shershaah is a part of my legacy now. We all are proud of Shershaah."
Himanshu Malhotra has acted in films like Mr. Himanshu Dixit, Wajah Tum Ho and Hum Chaar. He also worked in many serials like Champs, Kaisi Laagi Lagan, Seven, Bhagonwali, Rab Se Sona Isshq, Airlines, Fear Files, Yeh Hai Aashiqui, Love Marriage Ya Arranged Marriage and many more.