&TV is all set to bring in different flavours of fun and drama through its shows, Bhabiji Ghar Par Hai, Happu Ki Ultan Paltan and Gudiya Humari Sabhi Pe Bhari. In Bhabiji Ghar Par Hai and Happu Ki Ultan, viewers will see how Vibhuti Narayan Mishra (Aasif Sheikh) and Daroga Happu Singh (Yogesh Tripathi) try to mend their relationship with their respective wives. Whereas, in Gudiya Humari Sabhi Pe Bhari,Gudiya (Sarika Bahroliya) and her family gain superpowers and try to help Nanhe (Sudheer Neema) with a critical case.
Aasif Sheikh aka Vibhuti Narayan Mishra from Bhabiji Ghar Par Hai shares, "Tiwari (Rohitashv Gour) catches Vibhuti giving spoilt breakfast to Anita. On the other handAngori(Shubhangi Atre) takes Tiwari to Ramphal baba to seek his blessings for putrprapti. Taking advantage of the situation, Vibhuti bribes the baba to suggest a maunvrat for Tiwari. Simultaneously, a girl named Suparna proposes Vibhu but he shuns her away. Angry at Vibhuti, Suparna lodges a complaint against him and this upsets Anita who stops talking to Vibhuti. Knowing that only Tiwari's testimony can save him how will Vibhuti come out of this situation?"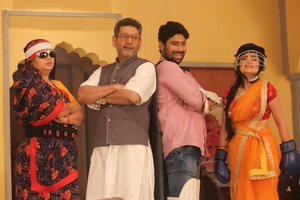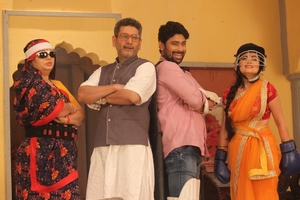 Kamna Pathak aka Rajesh of Happu Ki Ultan Paltanshares, "Rajesh (Kamna Pathak) misunderstands Happu (Yogesh Tripathi) when he returns home with lipstick a imprint on his cheek. A helpless Happu seeks help from Beni (Vishwanath Chatterjee) who advices him to agree to Rajesh's allegations of having an extra marital affair to calm her down. This idea fails terribly and the to support this Beni sends Gulabo at Happu's house and she ends up making the situation worse by saying Happu is her husband. Having to bear the brunt of everyone's anger Happu goes to beat up Beni. How will Happu convince Rajesh and his family and get rid of Gulabo?"
Sarika Bahroliya (Gudiya) from Gudiya Humari Sabhi Pe Bhari shares, "Gudiya and her family attain superpowers and everyone gets different abilities and strengths. There is news in town that two thieves have entered Sipri to rob everyone. Nanhe is designated to catch hold of them and if he fails, it might cost him his job. To help him and nab the robbers, Gudiya along with her family spread the news in the village that haveli has umpteen amount of money hidden. While the thieves decide to rob the haveli at night, the superpowers of Gudiya and her family are gone. Now how will they help Nanhe in arresting the thieves?"
For unlimited fun and drama, tune into &TV, every Monday to Friday from 8:00 pm to 11 pm!