It would not at all be out of place to state that some films are born with the mantle of luck. Whatever obstacles may come their way, they successfully combat them and emerge victorious to the core. Exactly two years ago, the film 'Takatak' was released when the box office for Marathi films was extremely cold but the film broke all the records and went on to shatter the box office records in a big way and entertained the audiences and it gave the idea to the producers to come up with a sequel to 'Takatak' called 'Takatak 2'. Too Luck helped 'Takatak 2' in a big way and inspite of the fear of the pandemic looming large, the unit was able to complete the shooting of the film amidst stringent lockdown. The entire team of 'Takatak 2' feels that this has been possible only with the blessings of the audiences.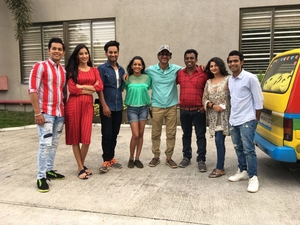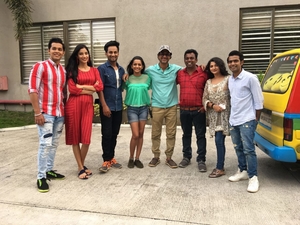 With Om Prakash Bhatt and Dhananjay Singh Masoom as the producers and Jagat Singh as the co-producer, 'Takatak 2' team launched the film in Goa with a grand mahurat and even completed most of the film briskly under the banner of Purple Blue Entertainment Pvt. Ltd. Thereafter when the second wave of Corona started, it was decided to shoot their balance portions of the films at Baramati & Bhor strictly adhering to the bio-bubble protocols of the government according to director Milind Kavde. The film stars besides Prathamesh Parab, Akshay Kelkar, Ajinkya Raut, Bhumika Kadam, Pranali Bhalerao, Komal Bodkhe, Swapnil Rajeshirke, Kiran Mane, Pankaj Vishnu, Kiran Berad, RJ Mahesh Kale, Smita Dongre etc. among others.
With 'Takatak 2', Milind Kavde has once again woven an interesting film which is centred around the desires and aspirations of the youth today. Prathamesh had garnered a lot of accolades with his able performance as Thokya in 'Takatak' earlier. Now the audiences will know what kind of entertainment will Prathmesh provide in the sequel to 'Takatak' this time. Besides handling the direction of the film, Milind Kavde has also been entrusted with the idea, story and the screenplay of the film while Kiran Berad has written the dialogues for the film. Hazhrat Sheikh Wali is the DOP for the film while Jay Atre has penned the lyrics and Varun Likhate has composed the music for the film. Nilesh Gundale is the Executive Producer of the film. The entire team including the cast and crew of the film is deliriously happy that the shooting of the film has been completed and the post production is going in full swing right now.