After much-awaited Marathi film '8 DON 75 Fakt Ichchhashakti Havi' Marathi cinema's ace filmmaker Sushrut Bhagwat has announced the title of his upcoming film which is titled 'Lok Kay Mhantil?' The story and screenplay is written by Sushrut Bhagwat and Sharvani Pillai who has acted in Sushrut's upcoming film '8 DON 75 Fakt Ichchhashakti Havi'.
Actor and director Sushrut Bhagwat is known for films Mumbai Time, Asehi Ekada Vhave (2018) and A Paying Ghost (2015). He has the film Sau Shashi Deodhar to his credit as writer.
Sushrut Bhagwat and Udaharnarth Nirmit's '8 DON 75 Fakt Ichchhashakti Havi', the duo have once again come together for next 'Lok Kay Mhantil?' The announcement was made through social media. The details about the cast of the new film, the subject of the film etc, will be announced soon.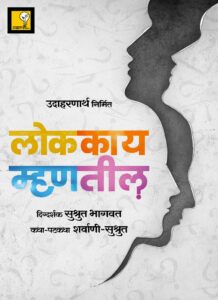 Under the banner of Udaharnarth Nirmit, the film will be produced. The production house Udaharnarth Nirmit has given films like Chidiya, Kaagar earlier and also upcoming '8 DON 75 Fakt Ichchhashakti Havi' directed by Sushrut Bhagwat who has earlier directed Mumbai Time and Paying Ghost fims.
So far, the film '8 DON 75 Fakt Ichchhashakti Havi' has won over 50 awards at various national and international film festivals. The film has bagged awards in all the catagories- Best Indian Film, Best Actress, Best Actor, Best Cinematography, Best editing, Best Background Music, Best Sound Design, Best Production Management, Best Producer and Best Director. The film stars Shubhnkar Tawde, Sanskruti Balgude, Sharvani Pillai, Sanjay Mone, Aanand Ingale, Vijay Patwardhan, Chinmay Sant, Dr. Nikhil Rajshirke with Pushkar Kshotri in guest appearance. The screenplay is written by Sharvani Pillai and Sushrut Bhagwat, dialogues by Sanjay Mone, lyrics by Vaibhav Joshi and music by Avadhoot Gupte.
Of all the films so far, Sushrut has come up with the best themes, so the announcement of 'Lok Kay Mhantil?' has generated curiosity about the film.