Shammi Kapoor and Asha Parekh starer 1966 film TEESRI MANZIL completes 55 years of release today. The film released on 21 October 1966 was produced by Nasir Hussain and directed by Vijay Anand. The film also stared Laxmi Chhaya, Premnath, Prem Chopra, Iftekhar, Helen, K. N. Singh and Salim Khan.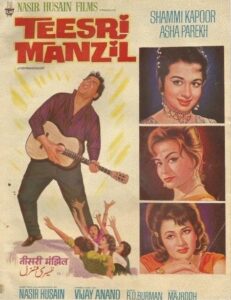 The music composed by R. D. Burman and songs set the records. All the youthful songs Deewana Mujhsa Nahin Is Ambar Ke Neeche, O Haseena Zulfonwali Jaan-E-Jahan, O Mere Sona Re, Sona Re, Sona Re, Aaja Aaja, Main Hoon Pyar Tera and more are still popular. The lyrics were penned by Majruh Sultanpuri, sung by Mohammad Rafi and Asha Bhosle. The songs were choreographed by Herman Benjamin. This movie is considered among the best offerings and one of the first breakthroughs of R.D. Burman's career.
The film is also noted for its memorable lead pair, superb mystery, tight script and above all, brilliant performance by Shammi Kapoor and Asha Parekh. The film became a hit and remains popular to this day. Although it is a murder mystery, it continues to draw repeat audiences, even though the identity of the murderer is no longer a secret. Teesri Manzil was the last time Shammi starred in a Nasir Hussain film. Asha would go on to do four more, three of which she starred in. Teesri Manzil was also the last Hussain film in which Mohammed Rafi sang all the songs.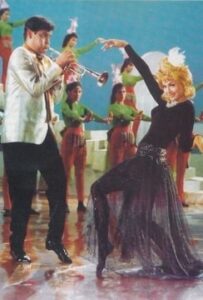 Hussain and Vijay never worked together after Teesri Manzil. Hussain would return to directing all his films again and would only relinquish the director's chair to his son after three of his films flopped in the 1980s. Salim Khan played a small role as Shammi Kapoor's musician friend who pretends to be Rocky in the musical number "Oh Haseena Zulfon Waali". In real life, Helen would later become his second wife. Shammi's wife Geeta Bali died during the filming, and Vijay helped Shammi get over the grief.