National award winning playback singer Savaniee Ravindrra has experimented in the field of music till date. Savaniee has always been in the limelight due to her YouTube series. In her YouTube series 'Savaniee Unplugged Season 3', she always gave the audience such amazing songs. The series also got a lot of response from the audience.
Savani Ravindra has come up with a Ganeshotsav special unplugged cover song 'Ganapati Tu, Gunapati Tu' on her YouTube channel ' Savaniee Unplugged Season 3′ to double the joy in this festive season. The music is composed by Yashwant Dev and lyrics written by Jagdish Khebudkar. The song from the movie Mantryachi Soon' was sung by Vasantrao Deshpande. And now Savaniee Ravindrra herself has brought this song in a new estimation.
Have you ever seen female shahir? No! That's why Savaniee Ravindrra, who is always experimenting with new things in music, has come up with 'Ganapati Tu, Gunapati Tu' as an unplugged cover song. Planet Marathi has many talented artists. This experiment is brought by Savaniee Ravindrra with Planet Talent of Planet Marathi.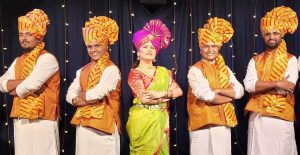 Savaniee Ravindrra says about the song, "On the occasion of the upcoming Ganeshotsav I have brought song to you. The singing of Dr. Vasantrao Deshpande has inspired me a lot since childhood. I have been getting lessons from his disciple tradition from my father. To sing Dr. Vasantrao Deshpande's song is really challenging to perform. But I accepted this challenge and brought you the cover song 'Ganapati Tu, Gunapati Tu'. I am sure you will love this song as much as you love my YouTube series ' Savaniee Unplugged Season 3'."
Savaniee Ravindrra came up with 'Savaniee Unplugged' in 2015 and did two successful seasons over the past few years. After a long wait she is presenting the 3rd season is straight from the heart and as it is. These are one take songs with no further processing or editing.