Saurabh Ghadge, popularly known for his comedy videos on Instagram and YouTube, makes his debut in the world of web series with Dice Media's all-new esports drama 'Clutch'. The 22-year-old content creator is known for his epic comic timing and has been able to attract a large fan following on social media during the lockdown.
Talking about the overwhelming experience, Saurabh expressed that, "Moving from a small screen to being surrounded by professional cameras was not just surreal but equally exciting, as I had only used my phone to shoot for Instagram videos." In sheer marvel he added, "Creating content and shooting for a web series are two completely different things. While creating content requires an idea and a mobile phone to shoot, the process involved in creating a web series is far more detailed and requires a proficient team and shooting equipment for the best results."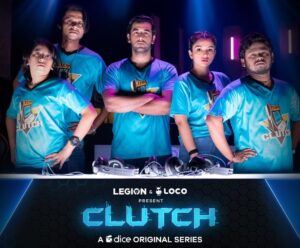 Saurabh plays the role of a simple delivery boy, 'Jeetu', who dreams of becoming an esports player. Jeetu is initially nervous to approach 'Team Clutch', but proves to be quite an asset on joining the team. As they move towards participating in a major esports tournament, winning is their only goal. Will 'Team Clutch' succeed or will Jeetu go back to being just another delivery boy, is what Saurabh's fans are most excited to find out.
Watch Saurabh Ghadge in his debut web-series, 'Clutch'; the 5-episodic esports drama is currently streaming on Dice Media's Youtube channel.
Adding a new genre to their creative playbook, Dice Media launches India's first-ever eSports based web series, "Clutch" stars Vishal Vashishtha, Ahsaas Channa, Saurabh Ghadge, Pratiek Pachauri, and Tirth Joshier. Set in the world of gaming, 'Clutch' captures the essence of passionate gamers and the ups and downs they face in wanting to compete for eSports tournaments.