The movie 'Gadad' has been in the news ever since its announcement due to its unique title. In the form of this film, the Marathi audience will get to see a Marathi film based on scuba diving for the first time. Shot on picturesque locations in Maldives, Goa and Wai, 'Gadad' will feature a never-before-seen storyline in Marathi films. Rohit Shyam Raut, a talented singer-composer, has done the responsibility of setting the melodious music to the exciting story presented using advanced technology. Along with Marathi folk music, Rohit Raut, who also knows western music, has given the lyrics of 'Gadad' a different musical touch.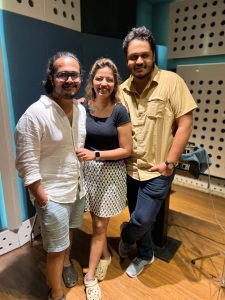 Elula Future Vision Pvt. Ltd. under the banner of producers Capt. Avadesh Singh and Varsha Singh produced the film 'Gadad' and director Pradnyesh Ramesh Kadam directed this film. The song recording of 'Gadad' has been completed recently. The film's lyrics have been sung by leading Marathi singers under the music direction of Rohit. Director Pradnyesh Kadam has brought a musical masterpiece to the audience in his debut. Abhishek Khankar has written three songs for this film and all the three songs are in different moods. The film is a super natural thriller style, so Rohit has tried to give music in the same style. One of these songs is sung by Rohit Shyam Raut, the second by Juili Joglekar and the third song is sung by popular Hindi singer Divya Kumar. Regarding the challenges faced while composing the music for the songs of the film, Rohit said that many stories have happened while directing the music of 'Gadad'. Since the film is a thriller, it was expected that the music would be a combination of thrill and fear. So this thought was always in the head while giving music. It was felt that some fear should be created in the minds of the audience even through music. That is what I and the entire team along with all the singers have tried to do and this film will keep the audience engrossed till the end. The process of composing music for 'Gadad' was a lot of fun. Rohit also assured that the fans will get a different album and never before heard music.
'Gadad' has been written by Pradnyesh Kadam, Loukik and Chetan Mule. 'MTV Splitsvilla X3' winner and 'Bigg Boss' fame Jay Dudhane and actress Neha Mahajan will be seen in the film. Along with these two actors like Shubhangi Tambale, Akash Kumbhar are also playing roles in this film. Song arranged by Adinath Patkar and Pravin Wankhede has successfully handled the responsibility of executive producer.