Nyrraa M Banerji starring Rakshabandhan…Rasal Apni Bhai Ki Dhal is being talked about. The actor is happy that the show is garnering positive feedback. She plays the role of "Chakori" in the fiction that highlights Rajasthani culture at the backdrop.
"It's great that our show is doing well… any ethnicity or culture adds a lot of drama to a story, Rajasthani is quite unique too in terms of tattoos, jewelry, the unconventional language. The language is sweet to hear and yet not explored a lot," says the actor who loves donning all her Rajasthani clothes and looks in the show.
"It makes me feel like a princess. I think many of us like the Rajasthani look and like the beautiful palaces, rajas and maharajas, ranis, the ambiance etc.  So a non-banjara get-up instantly makes you look like a queen," Nyrraa M Banerji adds.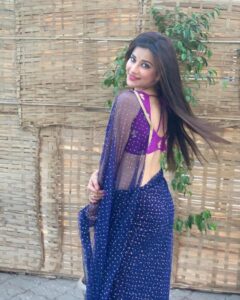 Nyraa shares that she doesn't relate to Chakori's character at all.  "There is nothing similar between myself and Chakori. The only thing I have introduced from myself in Chakori is probably my Diva behaviour," she laughs.
Talking about how she switches on and off from the character, Nyraa begins by saying that she never takes her work/characters home.
"Let me explain with the help of an example. Divya Drishti was indeed the closest to me. When I got this role I was already on the spiritual path where I was practicing manifesting and kept on thinking I wish I had telekinesis. I kid you not I became Divya Sharma, attracting exactly what I was wanting.  Even at home because I have read earlier in life that our old generation pandits could use telekinesis I tried meditation in my head to do that.
Praising the team and producers of the show Yash Patnaik and Mamta Patnaik, Nyrraa M Banerji adds, "Beyond Dreams is an amazing production house and I feel blessed to be working with Yash sir and Mamta ma'am. They have given me such a beautiful, colourful role. I also gel well with everyone on the set, a little more with Nishant Malkhani (Shivraj) and Soneer Vadhera (Moong Singh).  I have most of my scenes with them. Our set is vibrant. All thanks to the Rajasthani theme that we have, it has an all colourful palace-like décor."
Ending with a message to her fans, Nyraa says, "I love you all as much. I know you all love me but hate Chakori, that's just a character. And your hatred tells me that I am probably performing well. I am forever grateful for your support. Please be by my side always… Stay good and do good."