Based on one of the best-selling, most critically acclaimed video game series of all time, Uncharted introduces audiences to the young street-smart Nathan Drake (Tom Holland) and showcases his first treasure hunting adventure with wisecracking partner Victor "Sully" Sullivan (Mark Wahlberg). In an action-adventure epic that spans the globe, the two go in the dangerous pursuit of "the greatest treasure never found" while also tracking clues that may lead to Nathan's long-lost brother.
Directed by Ruben Fleischer, the film also stars Mark Wahlberg, Sophia Ali, Tati Gabrielle, and Antonio Banderas.
Hindi Trailer:
https://www.youtube.com/watch?v=yb0DTiXws6Q
Uncharted is an upcoming American action adventure film written by Rafe Judkins, Art Marcum and Matt Holloway, with a story by Judkins. Serving as an origin story and prequel to the video games of the same name created by Amy Hennig, the film stars Tom Holland as Nathan Drake, and Mark Wahlberg as his mentor Victor Sullivan, along with Sophia Taylor Ali, Tati Gabrielle, and Antonio Banderas in supporting roles.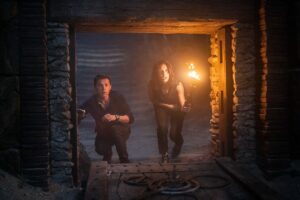 The film entered development in 2008, with film producer Avi Arad stating that he is working with a division of Sony Pictures Releasing to develop the film adaptation of Uncharted, but the film entered in a complicated production, with directors, writers, and cast members. Several filmmakers, David O. Russell, Neil Burger, Seth Gordon, Shawn Levy, Dan Trachtenberg, and Travis Knight were initially signed to direct the project, while Nathan Fillion, Chris Pratt, and Wahlberg were rumored to play Nathan Drake. It was later revealed the film would be an origin story of Nathan Drake, with Holland cast to portray the lead role in May 2017 and principal photography commencing in July 2020.
English Link:
https://www.youtube.com/watch?v=TF9DEhKzMU0
Sony Pictures Entertainment India releases 'Uncharted' in IMAX and 4DX across 4 languages- English, Hindi, Tamil, and Telugu. Exclusively in cinemas on February 18, 2022.