A beautifully crafted story of forbidden love and changing social conventions, My Policeman follows three young people—policeman Tom (Harry Styles), teacher Marion (Emma Corrin), and museum curator Patrick (David Dawson)—as they embark on an emotional journey in 1950s Britain. Flashing forward to the 1990s, Tom (Linus Roache), Marion (Gina McKee), and Patrick (Rupert Everett) are still reeling with longing and regret, but now they have one last chance to repair the damage of the past. Based on the book by Bethan Roberts, director Michael Grandage carves a visually transporting, heart-stopping portrait of three people caught up in the shifting tides of history, liberty, and forgiveness.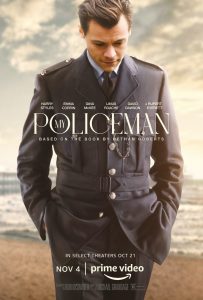 Harry Styles says that he is proud to be a part of the upcoming film, My Policeman. The story completely moved him and he decided to approach director Michael Grandage himself. In his meeting with Grandage, Styles showed up with all lines memorized and Grandage got his Tom immediately. Revealing what attracted him to the story, Harry Styles said, "It's not like 'This is a gay story about these guys being gay.' It's about love and about wasted time to me. It's obviously pretty unfathomable now to think, 'Oh, you couldn't be gay. That was illegal (in the 50's).' I think everyone, including myself, has their own journey with figuring out sexuality and getting more comfortable with it." While the film has intimate scenes, Styles feels it focuses more on emotional lovemaking between the gay couple, rather than the physical sexuality.
The film staring Harry Styles is produced by Greg Berlanti, Sarah Schechter, Robbie Rogers, Cora Palfrey, Philip Herd, written by Ron Nyswaner and Executive Produced by Michael Grandage, Michael Riley McGrath, Caroline Levy.
Featuring an ensemble cast of Harry Styles, Emma Corrin, Gina Mckee, Linus Roache, David Dawson, and Rupert Everett, My Policeman, will release in select theaters on October 21 followed by a global release on Prime Video on November 4.