Director K. Asif's Indian epic historical film MUGHAL-E-AZAM completes 60 glorious years of release today. Produced by Shapoorji Pallonji, the film was released on 5 August 1960. The film stars Prithviraj Kapoor, Dilip Kumar and Madhubala. The soundtrack was composed by music director Naushad, and the lyrics were written by Shakeel Badayuni.
In Mumbai main theater was Maratha Mandir. A grand structure was erected near the theater.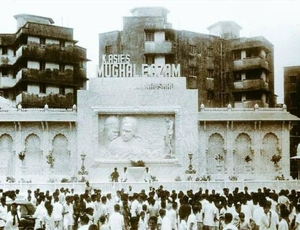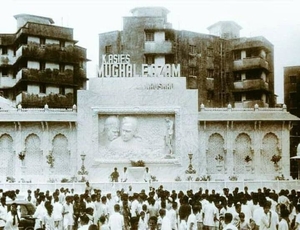 The film is a tale of the love affair between Mughal Prince Salim (who went on to become Emperor Jahangir) and Anarkali, a court dancer. Salim's father, Emperor Akbar, disapproves of the relationship, which leads to a war between father and son.
Mughal-e-Azam had the widest release of any Indian film up to that time, and patrons often queued all day for tickets. It broke box office records in India and became the highest-grossing Indian film of all time, a distinction it held for 15 years. The accolades awarded to the film include one National Film Award and three Filmfare Awards at the 8th Filmfare Awards. Mughal-e-Azam was the first black-and-white Hindi film to be digitally coloured, and the first in any language to be given a theatrical re-release. The colour version, released in November 2004, was also a commercial success.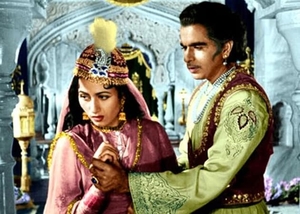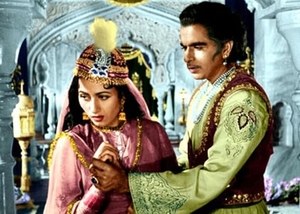 Trivia
Mughal-e-Azam was actually shot thrice. While it is known that the film released in Hindi, with prominent Urdu dialogues, it was also shot in Tamil and English. As the actors didn't know how to speak in Tamil fluently, they lip-synced to Tamil dialogues instead. The Hindi version of Mughal-e-Azam was a blockbuster. However, the Tamil version flopped badly. Since the Tamil film didn't work, the makers decided not to release the film in English.
The well-known song "Pyar Kiya To Darna Kiya" has a unique history attached to it. The song cost Rs. 10 million at a time when a movie would be made for less than a million. Reportedly, the song was written and re-written 105 times by lyricist Shakeel Badayuni. The song was shot in the renowned Sheesh Mahal (Palace of Mirrors). Also in those days, there was no way to provide the reverberation of sound, and hence playback singer Lata Mangeshkar sang the song in a studio bathroom.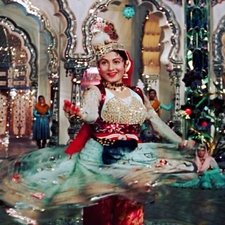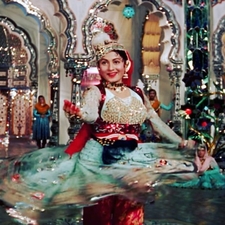 The film took 16 years to be complete.
For the battle sequence of the film, 2,000 camels, 4,000 horses and 8,000 troops were used. Also, many of the soldiers were borrowed from the Indian Army.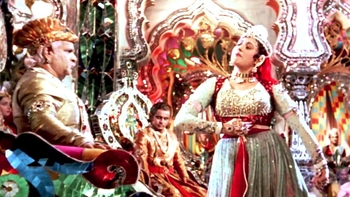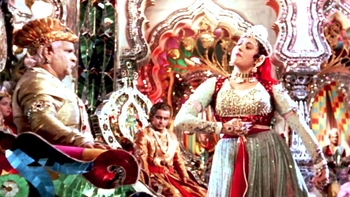 The statue of Krishna, which was used in the film, was made of pure gold.