Satya Sai Baba was a renowned religious guru and Producer Balkrishn Shrivastav and director Vicky Ranawat have come together to make a biopic on him. The poster of the film was unveiled recently at an event and it was launched by the Governor of Maharashtra Shri Bhagat Singh Koshyari. The film will release on January 22 all over the world in Cinemas.
It is said that Satya Sai Baba was the incarnation of Sai Baba of Shirdi. Millions of people who believed in Sai have the same belief. Sathya Narayan, who was born from the womb of Ishwar Amma in 1926, later became Sathya Sai Baba. At the age of five, he declared himself to be God. And these things were also proved by the people when he performed miracles.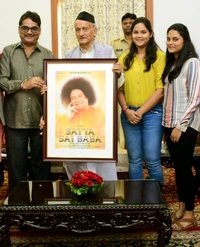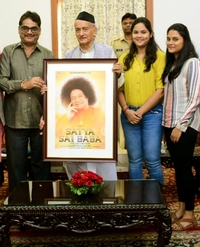 From former President of the country Late Abdul Kalam Azad to superstar Rajnikanth, Aishwarya Rai Bachchan and God of Indian cricket Sachin Tendulkar many people believed in him. The small village Putapurti, which did not have roads and infrastructure, today has world-renowned hospitals, music and education centres and many other facilities for the common man. Despite taking Samadhi, even today, millions of people who believe in him, believe that he will again incarnate as Prem Sai.
The film will have Anup Jalota, Sadhika Randhawa, Jackie Shroff, Govind Namdev , Murli Sharma, Arun Bakshi, Mushtaq Khan, Babanrao Gholap in important roles. Sudhakar sharma has written the lyrics which are composed by Bappi Lahiri, Sumeet Tappu. Babban Rao Ghulap of Atman Films presents the film produced by Balkrishn Shrivastav of A One Creation. The film is co-produced by Subhash Sehgal, Ankita and Nikita Shrivastav. Sachindra Sharma has written the story of the film.
Watch out for more updates on the film, which will be out soon.