In today's world, some English words have become an integral part of our lives. These words are often used indiscriminately in our daily lives. 'Sorry' is one such word, which has become a part of our daily life today. Now a Marathi film is coming to the audience based on the word 'sorry'. The title of this movie is 'I Am Sorry'. The trailer of this movie has been launched recently. The trailer of 'I Am Sorry' which is attracting the attention of the fans is getting a lot of likes and views in a very short period. The film will be released across Maharashtra on May 13.
https://bit.ly/IAmSorryTrailer
J. Films present 'I Am Sorry' is produced by Abdul Majeed Chikte. This is the first Marathi film by Abdul Majeed Chikte, a builder and social worker. Ravindra Jadhav has worked as executive producer for this film. The film will be screened across Maharashtra in association with Sameer Dixit and Rishikesh Bhirangi's Pickle Entertainment. The film is written and directed by Deepak Bhagwat. Deepak Bhagwat, who earlier directed '3:56 Killari', has once again come up with a different genre through 'I Am Sorry'. The audience's curiosity about the film has increased as a glimpse of what will be seen in 'I Am Sorry' can be seen in the trailer. Director Deepak Bhagwat has expressed his opinion that since the plot of this film is in tune with his daily life, every viewer will like it. An attempt has been made to bring the story of 'I Am Sorry' to the audience through a new pair. Every element of the department has worked as hard as the cast and tried to give their contribution. Mayuri Kapadne and Riaz Mulani will be seen in the lead roles. Mayuri has previously appeared on Sun TV's 'Jau Nako Door Baba' as well as in the Hindi serial 'Teri Ladli Main'. Riaz is currently working on Zee Marathi's 'Man Jhale Bajind' serial. Apart from these, Anurag Sharma, Neha Tiwari, Rajan Tamhane, Sameera Gujar, Kaustubh Padhye, Shrikant Kamat, Rajesh Latkar, Bhagre Guruji, Asmita Khatkhate, Swati Pansare, Sushma Sinalkar, child artist Omkar Jadhav, Sanvi Chavan are also in the cast.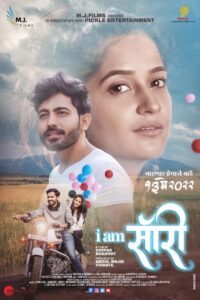 DOP Om Narayan is the cinematographer and Chaitrali Dongre is the costume designer, casting director, and production in charge. Singer Javed Ali, Anandi Joshi, Rishika Mukherjee, Parvathi Nair, Shubham Divekar, Sabali, Farhan Sabri, and Captive sung & musician Sam A.R. composed songs for 'I Am Sorry'. Chief Sound Designer is Prashant Kamble and Santosh Phutane is the Art Director. Background music is done by Gabriel Salomoni and DI by Raja Rajan. Makeup is done by Nagesh Kasturi and Ankush Boradkar is the arranger. Amol Chalakhure is the Chief Assistant Director and Kisan Chavan is the assistant director.