Prateik Pachori, known for his unique roles in various shows such as Operation MBBS, Chousar Firangi and Panchayat is currently seen acing the role of a hardcore gamer, 'Raunak' in Dice Media's all-new e-sports drama series "Clutch". Fondly loved for his role as Ketan Chotai aka KC Bhai from Operation MBBS, Pratiek Pachori has grown as a versatile actor in the entertainment industry. After entertaining the masses with a character like KC Bhai, is he worried about the comparisons that will be drawn with his character in Clutch?
On being asked about the comparisons that happen between characters, Pratik shares, "Ketan Chotai has been a breakthrough character in my career and my fans still identify me as KC Bhai. The character has set such a huge benchmark that I was sure that I cannot disappoint my viewers with anything less. Unlike the chilled out and carefree character of KC, my fans would be surprised to see Raunak as rather more focused and determined.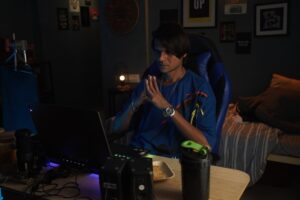 In the ongoing series, 'Clutch' Pratiek will be seen as an enthusiastic and brilliant gamer that is tackling serious issues when it comes to his anger. Despite his self-centeredness, Raunak remains optimistic to join Arun's (Vishal Vashishtha) team to compete in a major e-sports tournament. With all the arrogance that Raunak brings, wouldn't it be exciting to watch if he can present his gaming skills with equal tenacity? Will Raunak be able to motivate an action-packed team of players to move forward in the tournament or will his anger issues be a hindrance to this success? One can only wait and watch as each episode unfolds the climax of the tournament as well as the fate of Rounak in the show.
Watch Pratiek Pachori aka KC bhai in a gamer avatar in the all-new exciting web series 'Clutch' on Dice Media's Youtube channel.