With a green signal for screening of films in Maharashtra, many films that had been awaiting the date are now on way to release. While there is a race in Maharashtra for announcement of release dates for Bollywood as well as Marathi films, a heavily discussed and a fresh aspect film "Jayanti" presented by Dashami Studios, produced by Meliorist Film Studio and written-Directed by Shailesh Narwade will hit the silver screens on the 26th November 2021. The announcement has been made on social media.
With an out of the box title, film Jayanti has already been a topic for fierce discussion even before it hits the screen. The discussion has centered on the probable lead roles in the film as well as artists behind the veil. Mangesh Dhakde who has provided quality background music compositions to super hit Bollywood flicks such as Article 15, Mulk, Thappad and acclaimed Marathi films such as Narbachi Wadi and Deool, has set the songs to tune and has created background score for film 'Jayanti". Eminent and revered singer from Indian Music arena, Javed Ali has rendered two of the songs from this film. Out of these one has been penned by none other than Guru Thakur.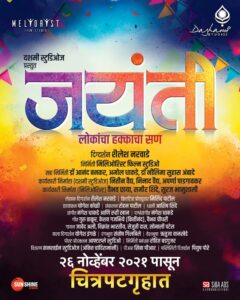 A National Award winning film "Khwada" to his credit, Editor Rohan Patil has edited Jayanti and Santosh Gilbile has carried out the makeup who has National Award winning films like "Shala" & "Killa" to his credit. With a rich experience of over 20 years in the films, Nitin Vaidya with his company "Dashami Studios" is presenting the film.
"After such a long wait, I am naturally anxious to see my film being released. However, more than that, I am confident that the film "Jayanti" will induce everyone to look at life with a different perspective." This is what Producer Director of the film Shailesh Narwade had to say.
Film "Jayanti" being released on the 26th November 2021 is set to widen the perspective of audiences through entertainment for sure.