The trailer of the much talked upcoming Marathi movie IRSAL was unveiled at Pune in presence of cast and crew. Produced by Bhalari Productions and presented by Raj Films, IRSAL is directed by Aniket Bondre and Vishwas Sutar. The film has tagline "Rajkaranaat Gulal Shivay Majja cha Naay".
The trailer of the movie IRSAL shows what happens in politics at the lower level. It shows a glimpse of the impact of political developments on local politics and various social factors. From teenagers to veterans in politics, the film manages to capture the essence of what happens during elections.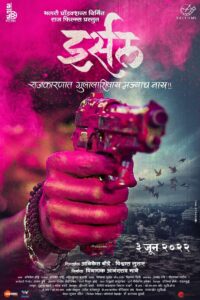 Vinayak Anandrao Mane is the producer of ' IRSAL which is the first production of Bhalari Productions and presented by Raj Films. With this film newbie Vikram Suryakant and Shivani Moze Patil are making their debut in Marathi cinema. The film also stars veteran actor Dr. Mohan Agashe along with Shashank Shende, Anil Nagarkar, Madhuri Pawar, Sujata Mogal, Sharad Jadhav, Ajinkya Nikam, Vishwas Sutar, Sanjay Mohite, Adarsh ​​Gaikwad, Digvijay Kalekar, Omkar Bhasme, Ketan Visal, Harshali Rodge, Nagesh Naik, Vaishali Ghorpade, Chaitali Barde, Appasaheb Kundle, Sarjerao Jadhav and Hanif Sheikh.
Sanjay Thube is the executive producer. The story is written by Aniket Bondre who also wrote the screenplay with Maheshkumar Munjale. The dialogues are written by Vishwas Sutar and the lyrics by Dinkar Shirke who has also composed the music. Cinematography by Anand Pandey and Virdhaval Patil, editing by Santosh Gothoskar, sound by Piyush Shah, art by Siddharth Tatuskar, choreography by Dhairyashil Uttekar, Costumes by Sonia Lele Sahastrabuddhe, make-up by Suhas Gawate and Mahesh Barate and the hairstyles are by Deepali Dhaware.
Audience will get to watch dance of famous dancer and actress Madhuri Pawar in IRSAL. The song "Yaa Baya Daji Aal" is picturised on Madhuri Pawar. The music is composed by 'Naad Karaycha Naay' fame Dinkar Shirke who has penned the lyrics. The song is sung by Urmila Dhangar and choreographed by Dhairyasheel Uttekar.