Yaariyaan actor Himansh Kohli has shared his New Year plans, which includes working on a "great project".
"A part of me says I need to go home because I have been in Dehradun shooting for Boondi Raita for a long time. But it's business and usual and I got to be here to finish the shoot at the earliest since I have other projects lined up. So, I'll be welcoming 2022 with the amazing crew of the film and some close friends," he said.
According to him, the best thing for any professional is doing what they love doing on the first day of 2022.
"I'm fortunate to be shooting a great project and spending quality time with the people who are with me on this journey," he said.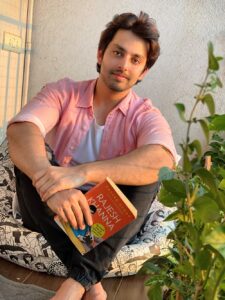 As for his New Year's resolution, he shared that he wants to start reading again. "I plan to finish at least one book every month. So, by the end of 2022, I would have finished 12 to 15 titles," he said.
Himansh Kohli is playing Baggu's role in the film and his life has a backdrop of Dehradun. "Boondi Raita is the story of a small-town boy whose life is a mess. Sometimes it's about his career, sometimes it's about his relationships, and then sometimes it's about his family. But, the good part is that the mess is wholesome and has all the flavours in it. The beat part of BR is it's a family movie where everyone will relate to some or the other character and it is so real you'll feel like it's a tale of your own household."
Himansh has done some amazing music videos in the last few months. Tenu Vekhi Javaan, Main Jis Bhulaa Du, Wafa Na Raas Aayi, Bewafa Tera Muskurana, Dil Galti Kar Baitha Hai, Chura Liya all the music videos have done exceptionally well.