The trailer of Zee Studios' movie 'Har Har Mahadev' came out with a thunderous roar of 'Har Har Mahadev' and succeeded in winning the hearts of all the audience. The film's trailer launch event was held in Mumbai on Monday night. Soon after, the trailer was released on social media and trended at number one within hours, spreading like wildfire. Not only in Marathi, the trailer of 'Har Har Mahadev' in other languages also getting a similar response.
The Marathi and Hindi trailer got over twenty lakh views on YouTube in just a few hours and it managed to trend on the number one spot with thousands of tweets on Twitter as well. Superstar Vijay Sethupathi, who is known as Makkal Selvan i.e. common man's hero in Tamil cinema, also shared the Tamil trailer of the film on his Twitter handle, which has been retweeted by many.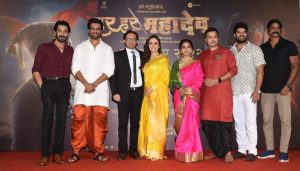 Subodh Bhave played the role of Shivaji Maharaj's Karari Bani very sensibly and Sharad Kelkar played the role of Baji Prabhu Deshpande, who has a strong personality, from this trailer and both these actors have been acknowledged by the audience. Many on social media have been reacting to the jaw-dropping fight scenes and the equally powerful dialogues of this duo.
Written and directed by Abhijit Deshpande and starring Subodh Bhave, Sharad Kelkar, Amrita Khanwilkar, Saili Sanjeev, Nishigandha Wad, Ashok Shinde, Milind Shinde, Hardik Joshi, Kishore Kadam, Sharad Ponkshe, 'Har Har Mahadev' will release on Diwali on October 25. Released across India in Hindi, Tamil, Telugu and Kannada languages ​​along with Marathi. The film is produced by Sunil Phadtare's Shree Ganesh Marketing and Films and Zee Studios.
The film Har Har Mahadev has a great team of actors behind the screen as well as a great team of technicians has worked on it. The look design work of all these artists has been done by the famous colorist Vikram Gaikwad while the costume side has been handled by National award winner Nachiket Barve. National award winning DOP Tribhuvan Babu Sadineni, cinematographer for several successful Hindi films, has directed the cinematography of Har Har Mahadev. The music of the film is composed by Hitesh Modak and the lyrics are written by Mandar Cholkar and Mangesh Kangane.