Chef Sanjeev Kapoor needs no introduction. An exceptional culinary artist who has a dedicated fan following of his own, he is someone who creates magic when it comes to preparing mouthwatering dishes. However, what most people don't know is, that he is also a huge fan of Sony Entertainment Television's dance reality show, India's Best Dancer.'
Since India's Best Dancer is all set to make a return with its second season, Chef Sanjeev Kapoor took to his social media by preparing a special dish to celebrate the extraordinary the talent this season has to offer!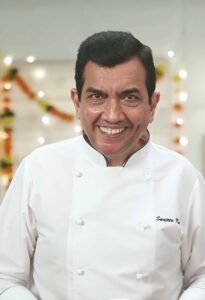 Sharing his delight, Chef Sanjeev Kapoor is seen saying, "Happy Navrati friends! Every year on the occasion of Navratri, I make a variety of dishes. In India, every nook and corner has some of the best dishes that is unique to their culture. But if there's something that the entire country agrees on is that the best dancing talent can only be found on India's Best Dancer! The show is now returning with the much awaited second season to find its 'Best Ka Next Avtar'.
As Sanjeev Kapoor shares his unique recipe, he says, "My best and most favorite dish is ready to go with India's best dance reality show- India's Best Dancer 2!"
Link: https://www.instagram.com/reel/CU-JQmwIhwg/?utm_medium=copy_link
Hosted by Maniesh Paul, industry's best and most proficient names in the field of dancing, Malaika Arora, Geeta Kapur and Terence Lewis will helm the mantle as judges leaving no stone unturned to find #BestKaNextAvtar when it comes to dance. As the clock keeps ticking, the judges, or E.N.T specialists – Malaika Arora, Geeta Kapur and Terence Lewis, will keep a close eye on the Entertainment, Newness and Technique that the contestants bring forth through their dancing.
Don't forget to tune-in to India's Best Dancer – Season 2 starting 16th October, every Saturday & Sunday at 8:00 PM only on Sony Entertainment Television