Audience will get to watch a belly dance in Gujarati film GUJARAT THI GOA which is first time in Gujarati films till date. The song was shot on Mumbai based actress Madhavi along with two lead actors Akshat Irani and Yash Shah on the dance floor. The shoot was held on the five star luxury cruise.
Talking about the belly dance Madhavi said, "I am fond of dancing since my childhood. Ever since I was in school, I used to do the traditional Maharashtrian dance 'Lavani'. Then I also started learning other dances. Today I am doing many dance shows in India as well as abroad with my dance troupe."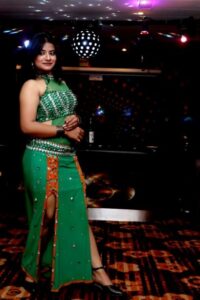 Smit Vandan Film Production's film GUJARAT THI GOA shoot is currently going on different locations of Gujarat. Actor Rajdeep, a renowned name in the Gujarati film industry, is now a day busy shooting his debut Gujarati film GUJARAT THI GOA as a producer-director.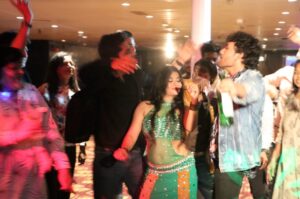 Talking about the belly dance song Rajdeep said, "We are filming the important scenes of the film on a cruise. GUJARAT THI GOA is the story of two young men of rich fathers who get into trouble due to wrong companionship and their efforts to get out of it. So in this shoot we are filming a scene these two sons of rich father are throwing and spending the money won in gambling on the belly dancer."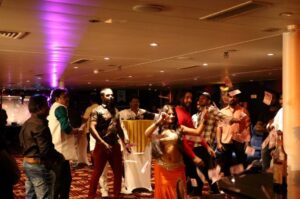 Under the banner of Smit Vandan Film Production, the film is produced by Smita Barot, Mukesh Patel, Shailesh Patel, Vandana B. Raval. The music is composed by Shivam Bakshi, lyrics penned by Hemant, Keshav Rathod and Mahil Pallavi. The album has four songs with different moods. The story, screenplay and dialogues are written by Rajdeep, action by Dilip Yadav.
GUJARAT THI GOA stars Akshat Irani, Yash Shah, Tanu Rathod, Hridaya Singh, Sahil Khan, Shekhar Shukla, Meenakshi, Atmaram Tripathi, Shahrukh Sadri, Bharat Brahmabhatt, Smita Barot, Vandana Rawal, Amy, Dimple, Aasmi, Raju Panchal, Diving Rawal, Jagrutibahen, Praveen, Roshni Rathod, Ashish Sukhadwala along with ace actor of Bollywood Shakti Kapoor and Rajdeep.