Given a choice, Aparshakti Khurana wouldn't want to be anywhere other than his set. That's how much he loves his work. However, a short break at regular intervals is important to recharge your batteries and rejuvenate. So, the actor packed his bags and jetted off to London with his wife Aakriti.
Talking about the trip, Aparshakti says, "Though I am striving to get back to work, this break was much needed. It feels amazing to take time off work. I like indulging in various activities while I am on a holiday, which can be done well when you are with your friends or family. Ergo, arriving at the decision to take this break and enjoy it with my wife and daughter did not take me much time. Happy that I got some time off to spend quality time with my wife in London!"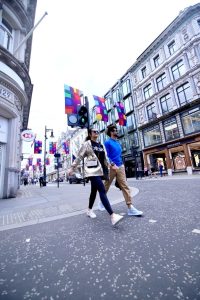 Meanwhile, on the work front, Aparshakti Khurana will next be seen in the upcoming spy thriller film called 'Berlin' opposite Ishwak Singh followed by action thriller Dhoka and a period drama series Jubilee directed by Vikramaditya Motwane.
After playing the highly fun relatable characters in several films, Aparshakti Khurana is thrilled about his next project in a lead role with filmmaker Atul Sabharwal, which he says, will pleasantly surprise the audience. The suspense thriller named 'Berlin' will reportedly feature Aparshakti as a sign language expert for the deaf and mute. It's with this film that Atul Sabharwal will for the first time collaborate with Aparshakti for a film.
The multi-talented actor stated 'New day, new challenge. 'Berlin' is a project that had me supremely excited since day one – purely because of what it brings to the table for me as an actor. Playing someone like a sign language expert in an Atul Sabharwal thriller is exactly the kind of work I had been looking forward to doing for a very long time."