ALTBalaji and ZEE5's dearly beloved series 'Crashh' is all set to be launched with major celebrations and hype! The beloved actors on the show have been extremely close to the hearts of the people. With this cast, the automatic assumption is that it is going to be an insanely good watch. The show is definitely going to exceed expectations and so will the cast with their incredible acting prowess.
The young urban series talks about four siblings, Kabir, Kajol, Rahim and Alia all faced with major mental trauma after their parents are killed in a car crash. They are first moved into an orphanage and then separated as they get adopted. There is a torn and battered picture reminding them of a life that should've been. Years later the oldest sibling decides to go find and reunite his sisters and brother only to realize that it was easier said than done.
As could be seen in the teaser and trailer, Aditi Sharma plays the beautiful Kajol, the sibling who was adopted by a clinically depressed woman to fill the void in her life. As a result, she turns into a broken version of herself. Rohan Mehra's character, Rahim gets adopted into a not so well-to-do family but continues to be a big dreamer with a passion for dance. Alia, played by Anushka Sen gets adopted by a family that spoils her while the oldest, Kabir played by Kunj Anand remains unadopted but grows up to be a Top cop who fights hard for what he believes in and who strives to reunite his family and Rishabh, an accomplished surgeon and mutual romantic interest of the two sisters is played by Zain Imam.
The journey revolves around the fate of these four siblings which is bringing them closer but they are unaware about their relationships with one another. Inseparable in childhood, pitted against each other by circumstances. This Valentine's Day, will 'love' bring them closer or push them further apart? Will the siblings ever realize their bond? Will destiny ever bring Kabir, Kajol, Rahim and Alia together??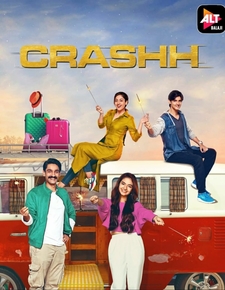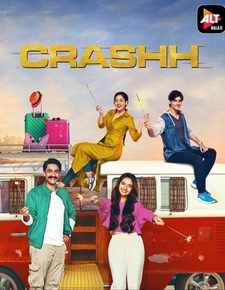 "Working on an amazing project like this and finding new family and friends just made me feel so overwhelmed with emotion. Watching the trailer itself was such an emotional experience I can't wait to watch the whole series. It is like having an out of body experience," said Aditi Sharma, Actress (Kajol).
"If you have enjoyed gully boy, you will enjoy Crashh. We have a small-town boy with big dreams and I have always felt that Rahim, the character I play, is somehow relatable to almost everyone. Loved the whole dance element the character has and I loved preparing for it months ahead," said Rohan Mehra, Actor (Rahim).
"It is an honor and privilege to be a part of this one of a kind series. Family is so important and working on this series and the story just reminds one of how necessary it is to remember to not take people for granted, of how everything can be lost in a minute. You are reminded to be grateful every day and to cherish your loved ones," said Zain Imam, Actor (Rishabh).
"Alia is a reflection of the majority of the youth of today. Constantly with their devices and focused on creating an image on social media for the public eye. The fact that her adopted family spoils her doesn't help. So she continues to hide her true self from people as best as she can. It has been a challenging character to play but I am proud of what I have pulled off," said Anushka Sen, Actress (Alia).
"Spreading love, light and gratitude is what the series Crashh does. It was truly a pleasure playing the role of Kabir, the big brother and the cop. Crashh will always be a series that will remind me constantly through the years of love and family," said Kunj Anand, Actor (Kabir).
Produced by Balaji Telefilms and directed by Kushal Zaveri, binge-watch the first 10 episodes on ALTBalaji and ZEE5!
Watch CRASHH on the ALTBalaji app now!