The movie '8 DON 75: Fakt Ichchhashakti Havi', which has been in the news for the last several months under its unique name, has won more than 50 awards nationally and internationally. It is a film on a different subject and it will be released soon. Recently, in Pune, in the presence of the cast and crew of the film, a celebration was held for this great achievement of the film.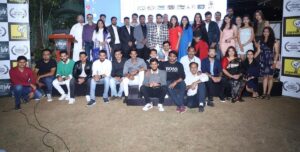 Udaharnarth Nirmit's next '8 DON 75 Fakt Ichchhashakti Havi' is directed by Sushrut Bhagwat, the film is produced by Vikas Hande, Lokesh Mangade and Sudhir Kolte. Curiosity about the film was aroused after the teaser of the film was launched last year.
So far, the film has won over 50 awards at various national and international film festivals. The film has bagged awards in all the categories- Best Indian Film, Best Actress, Best Actor, Best Cinematography, Best editing, Best Background Music, Best Sound Design, Best Production Management, Best Producer and Best Director.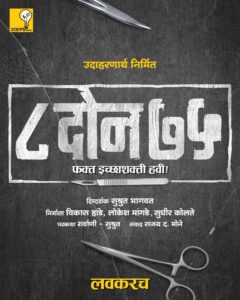 The film has been honored at international festivals in France, Serbia, Singapore, United States, Bhutan, Yugoslavia, Italy, as well as festivals in India, Pondicherry, Kolkata, Himachal Pradesh, Mumbai, Uttar Pradesh, Sikkim. We have seen films on organ donation in Indian languages as well as foreign films. But '8 DON 75: Fakt Ichchhashakti Havi' is about body donation and raising awareness about it. This is probably the first film in any language on the subject.
Apart from different subject, the film came into the limelight for another reason. As many as 14 new actors have got a chance from this film.
The film stars Shubhnkar Tawde, Sanskruti Balgude, Sharvani Pillai, Sanjay Mone, Aanand Ingale, Vijay Patwardhan, Chinmay Sant, Dr. Nikhil Rajshirke with Pushkar Kshotri in guest appearance. The screenplay is written by Sharvani Pillai and Sushrut Bhagwat, dialogues by Sanjay Mone, lyrics by Vaibhav Joshi and music by Avadhoot Gupte.