Vandana Khandelwal started the production house Under The Sun Studioz with Chitra Vakil Sharma recently. The writer, known for songs such as Dil Ko Mere, Judaai, Wajah and Dim Dim Light, is happy to be able to fulfil her desire.
"The name 'Under The Sun Studioz' was suggested by a very dear friend as it completely resonates with Chitra and my personalities. We are multi-talented so is our company, a multi-faceted studio," she says.
So far, the production has made many music videos, web series and films. At the moment, the team is working on a few OTT projects and music videos that will be releasing soon.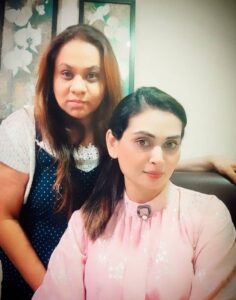 "Under the parent company are a music label, production house, post production studio, artist management etc. It's like a one stop shop for all artists, content creators and curators," Vandana Khandelwal adds.
Being a producer is a huge responsibility. "It's indeed a high risk job financially. Also, it's challenging to pick on the right content and right collaborations. I feel more than responsible… I feel motivated by the kind of work many legendary filmmakers in our industry have done.  What inspires me is that as a maker we make dreams come true," she says.
About her collaboration with Chitra, Vandana Khandelwal shares, "Chitra is a friend first. We bond over our love for food first and then we are business partners. I like her honesty and integrity. I think we make a good team. We are like two peas in a pod. The best thing about us is that we both are very focused and passionate about our work. Most importantly we are 100% transparent and communicate freely with each other."
Vandana Khandelwal doesn't want to try her hand at acting. "I never want to be in front of the camera. I enjoy the creative space. I have directed one music video and want to do more work as a director."