With the efforts of Planet Marathi founder Akshay Bardapurkar and Golden Ratio Films, the renowned UK-based Black Hangar Studios, which has previously made sci-fi films, including the Bollywood film Ra One along with Orwo Studios is now making its Marathi debut through the movie 'Mogulmardini Chhatrapati Tararani'.
As the film will be shot in Marathi as well as English, now the heroic story of Chhatrapati Tararani will reach across the world. With excellent VFX and graphics, Marathi film viewers will be able to experience the glorious history of Maharashtra on the big screen. The Marathi film industry will be enriched by the efforts of 'Planet Marathi' which competently fulfills the responsibility of entertaining its audience.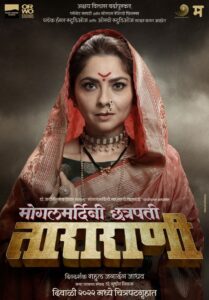 After the demise of Chhatrapati Shivaji Maharaj, many Chhatrapatis worked to preserve the Swarajya created by him. But Chhatrapati Tararani is important in the work of defending this Swarajya. Breaking the oppressive patriarchal culture of the time, she fought a decisive battle against the Mughal, Nizamshahi, Qutubshahi, Adilshahi, Dutch, English, Portuguese and Siddhi powers. The movie 'Mogulmardini Chhatrapati Tararani' based on Chhatrapati Tararani, who has made a name for herself in the glorious history of Maharashtra, will be released in Diwali 2022.
The story, script and dialogues of this film are by Dr. Sudhir Kadam and directed by Rahul Janardhan Jadhav. Sonali Kulkarni is portraying Chhatrapati Tararani. The music is composed by Avadhut Gupte.
The founder of Planet Marathi, Akshay Bardapurkar says, "Planet Marathi has always strived to make Marathi films more quality. We always strive to make Marathi films internationally recognized. Despite the important role in maintaining Swarajya after Chhatrapati Shivaji Maharaj, people do not know much about Chhatrapati Tararani. Her courage and bravery is extraordinary. This is an attempt of 'Planet Marathi' to bring this epic to the public. The entire team of this film is working hard to make the history of Maharashtra known to the whole world.