The entire world is eagerly waiting to say goodbye to 2020 and welcome 2021 with embraced hands. The time has now come to erase the bad memories of this year and accept the dreams that the new year is all set to offer to all of us. The New Year has in store for all of us a rich feast of new films. The audience who are waiting with bated breath for the release of a new Marathi film are going to be rewarded with the Marathi film 'Darling' which is slated for release on January 7, 2021. In this film the song "Yeh Hai Pyaar…" is going to be unleashed on the audiences.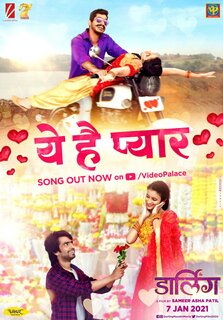 Already the title song 'Darling' has occupied a place of pride in the hearts of the audiences and there is no doubt at all that the song also is all set to ensnare the filmgoers who want to relish the melody. The film 'Darling' has been produced by Amit Dhupe, Ajay Thakur, V.J. Shalakha and Nikhil Khajindar under the banner of 7 Horse Entertainment Pvt. Ltd., V. Patke Films and Kathakar Motion Pictures. Sameer Asha Patil, who has directed the film 'Darling' has come up with an innovative and hitherto unheard of love story with a difference. The lilting romantic song "Yeh Hai Pyaar…" has been written beautifully by lyricist Mangesh Kangane and composed melodiously by the hit chart buster music director duo Chinar- Mahesh. The songs have been crooned by Chinar Kharkar and Sonali Patel. The song has been picturised on Ritika Shrotri, Prathamesh Parab and Nikkhhil Chavan.
The highlights of the song are the brilliant chemistry between the actors, eye soothing cinematography and soothing and melodious music. Ample efforts have been given to see to it that the work on costumes as well as the looks of the actors has been executed with a lot of finesse and aplomb. Chinar and Sonali have infused a lot of magic in the song. Director Sameer Asha Patil is of the opinion that the audiences will get an entirely different experience altogether when they watch the film because of the work put in by brilliant technicians who are behind the scenes. Chinar and Mahesh say that they have painstakingly worked on composing the music for the film. 'Darling' release on January 7, 2021 all over Maharashtra and have reposed a lot of hope as well as trust on the film at the box office.