EORTV understands YOU! EORTV, the Premier Video on Demand, Over The Top (OTT) media service platform launched its website www.eortv.com with a differentiated philosophy to focus on the LGBTQ audiences and other communities. The Mission of this new OTT platform is to be inclusive and create acceptance for all communities in society by eliminating any kinds of biases based on gender stereotypes and sexual orientation. The logo of EORTV contains the letter "E" which determines the significance of "EQUALITY". The letter 'E' is in GREEN colour to highlight gender equality.

Headquartered in Mumbai, leading the team of EORTV are stalwarts of the industry with a Vision to change mindsets and prevent discrimination and prejudice against the "hormonally challenged communities" in society with an aim to promote peace, fraternity, equality and brotherhood.
EOR TV has appointed Deepak Pandey and Dr.Kaushik Izardar as Executive Directors. Dr. Izardar will oversee the overall corporate responsibilities of the company and Mr. Pandey will be responsible for overall creative dimension of the company.
Renowned industry veteran, Deepak Pandey started his career as a cinematographer in the Indian television industry. In his extensive career of 20 years, he has earned many awards for shows like Prithviraj Chauhan, Saraswati Chandra, Mahadev, Ashoka, Veer Shivaji, Bepanaah, Jhasi ki Rani, Shobha Somnath Ki, Humsafars, Qubool Hai,Tanhaiyaan and many more. He has also been the cinematographer for films like Pink Mirror, Yours Emotionally and Baat Ban Gayi. Being an exceptional cinematographer, he has always wanted to tell stories and his first directorial debut was 'I love US' which was released on Footlooze Youtube channel. The series gained 150 million views. Other series that he directed include a biopic on Indian Defence Officers, 'Shaurya' which aired on Sony LIV, The Bull of Dalal Street, Halala, Paanchali, Singardaan, #Metoo, Dance Bar, Tadap and many more for Ullu channel. He was awarded the best director for the series, Halala. He plays a vital role in establishing the series and is known to experiment in his craft while exploring new technologies in the market.
"I'm excited about EORTV as it means more diversity and a uniquely curated selection of global entertainment for our audiences. We strive to bring viewers progressive, inspiring and ground breaking content in the fields of technology, digital media and queer advocacy to start with," says Deepak Pandey.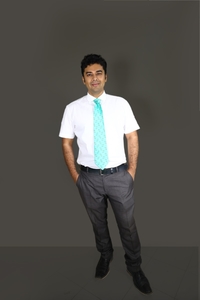 Dr.Kaushik has worked with media conglomerates including Viacom18 Media, ZEEL, INX Media, Fulford India Limited (Subsidiary of Merck & Co,USA), Izardar has also been an entrepreneur with exchange4media as Chief Business Officer and COO in Asia TV. Izardar has a Doctorate in Philosophy (PhD), he has completed the thesis under Dr Piyush Sinha (IIM- Ahmedabad). He has a MBA in marketing and has completed his senior strategic management from IIM Kolkata. Studied graduation from Visva Bharati University ( Siksha Bhavana- Santiniketan),founded by the renowned poet and noble prize winner Rabindranath Tagore.
"We are excited to announce the launch of EORTV's website and EORTV app will soon follow to keep expanding our opportunity to touch a broader audience with new offerings. This summer and especially in this period of quarantine, we are planning a distinctly curated selection of entertainment that represents all gender identities, sexual orientations, religions, cultures, ages, languages and walks of life," said Kaushik Izardar.
EORTV will provide hundreds of hours of premium, exclusive and original content from leading Producers and Publishers in domestic and international entertainment that includes award-winning & blockbuster films, TV shows, Web Series, music videos, short videos, cutting-edge series and originals in Hindi and English. EORTV's viewers can watch content through their Smart TV, mobile and other streaming device integrations. The app supports almost 200 TV channels and airs programs which users can watch at their convenience. Being a global platform, EORTV doesn't run short of user access at any part of the world. It can be used wherever you are located.