Actor Gaurav Khanna recently came on-board as the dashing and successful business tycoon Anuj Kapadia in Rajan and Deepa Shahi's "Anupamaa". He said that playing his reel avatar became a little easy as he could relate a lot to it on a personal level.
"When I heard the character of Anuj, I instantly felt that there are many uncanny similarities between the written character and me as a person. So I got more interested and I thought it would be lovely to get some personal nuances in the performance and that has really connected well with the audience and I am really happy," he said.
Gaurav Khanna has been a part of the industry for close to two decades and revealed that he always picks up roles that he can easily connect with. He said, "I love doing the characters or I end up doing the characters in which I see similarities with my own personality. All the characters that I have done so far, they all have some part of Gaurav in them and that's actually my process of going to work every day."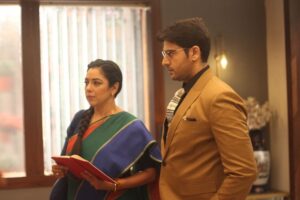 "I always imagine if Gaurav is put into a situation like this then how would he react and then I make sure that the envelope of that character is perfectly engulfed with the personality of the actor who is playing that character. That's how I go about my characters and that's why a lot of people also tell me that my character looks very natural on-screen. The process starts in the head and I try to make it as natural and as real as possible," he added.
Thanking the audience for welcoming Anuj wholeheartedly and showering so much love on him, Gaurav Khanna said, "A big thank you to them. It's a really heartwarming and humble experience to make a space for oneself in an already famous bouquet of an ensemble of cast. I have been around in the television industry for so many years and I understand that getting love from the audience immediately is not always an easy process, so I am feeling very lucky and very thankful to God that I got to play Anuj and the way people have accepted him in their life."
He further said, "The fan base is increasing ever since the character has come on-screen. I love playing Anuj and I feel the fun is getting transcended on-screen and people are catching on to it. It's an organic process and I am very happy with the response."
But were there any apprehensions of joining the show midway? "No, I didn't actually because I always believe that every character has his/her journey and that journey is that character's individuality. All that matters is the way you perform and the way you connect with the audience, nothing else matters. I am lucky that I got to play Anuj. It's a brilliant character, very beautifully written and I am loving the response I am getting," Gaurav Khanna signed off.