WISHLIST's first trailer came out with a punch of entertainment with a message for life in these difficult times. The film will be streaming from 11 December on MX player all across the world.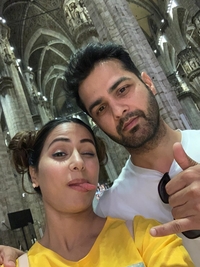 Hina Khan shared with media that they shot WISHLIST a year back all over the Europe with this beautiful crew of Internationally acclaimed filmmaker Rahat Kazmi, whose many films have won international awards at several film festivals around the world.
Here is the trailer of Wishlist: https://youtu.be/xkZ90DSYj2Y
The film is all about living in the moment and about letting your worries go away, Hina Khan has some strong dialogues which can become strong message for today's generation. Rahat kazmi's story was so powerful that on a casual evening at Rocky Jaiswal's house when Hina heard the story from Rahat, she just jumped to do this film, because its core message is so powerful and entertaining yet very international.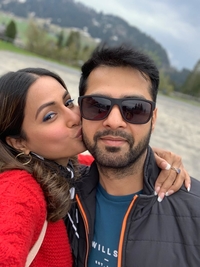 UK based Indian actor Jitendra Rai is the male lead opposite Hina Khan and he has given his best by playing a difficult character of Mohit. On asking Jitendra says that it's my training and experience working with some of the great English /Hollywood actors in the past that helped me a lot to get in the skin of this character. Surely Hina was so supportive all throughout the process and Rahat is a friend so the entire environment was like a family trip in Europe.
For the first time one of the top French producer François d Artemare Has also acted in the film opposite Namita Lal who will also be seen in much acclaimed Lihaaf. Another Singapore based actor Monica Aggarwal has an important character in the film. Apart from this child actor Dhruv Singhi, NSD veteran Neelu Dogra and many Europian and Indian actors are the part of this whole journey.
Wishlist is produced by Rahat Kazmi Films, Tariq Khan Productions, Zeba Sajid Films, Co-produced by Hiro's Faat Better Films, Riaan Rai Productions (Uk) and Piku Arts (Singapore) in association with Ahmed Abbas Films & Assad Motion Pictures.