EORTV, the Premier Video on Demand, OTT, reveals the first look of Games of the Sexes Poster.  Games of the Sexes series is a unique first-of-its kind mixed gender cricket league that will soon launch in November 2021.
The impressive 65 member cast in the series include Rumana Molla, Shahbaz Khan, Sachin Verma, Piyush Ranade, Shobhit Attray, Sneha Wagh, Vindya Tiwari, Ishani Sharma, Riya Deepsi, Rahul Jaittely, Mamta Kumari, Megha Kumar and Shiraz Khan.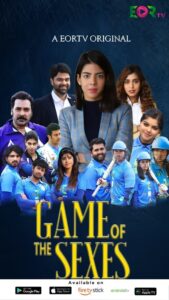 Games of the Sexes is directed by the acclaimed cinematographer and director, Deepak Pandey. About the series, EORTV CEO, Deepak says, "We are grateful for the huge support that for the EORtv anthem and are delighted to present the poster of first series, Game of the Sexes. Be it men, women or any other gender, the game of cricket is one game that must include everyone. I want to urge society to break the boundaries that exist in their mind which divides the sports by gender. Equality in sports is ultimately a reflection of equality in life, and if we want a better tomorrow, we must start breaking down all stereotypes which is EORTV's mission and vision!"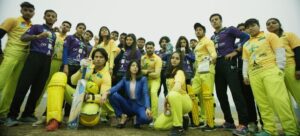 The series is set in post-Covid era when audiences have stopped coming to the stadium & the Cricket Board decides to bring back the excitement & interest in the game of cricket. An idea of conducting a mixed gender cricket match gets approved but the girl who suggested it gets into a scandal and is expelled from the board.
However, by sheer determination, she starts making her own team to prove the potential of a mixed gender cricket match. This story shows her struggle and the trouble she endures to make her dream come true.
Produced by Dreamzz Images Studio, Games of the Sexes was helmed by Anita Izardar, Kaushik Izardar, Shobhit Attray & Falguni Shah.