EORtV's premium subscription will start this September. The LGBTQ-focused OTT platform EORtV announces its content licensing association with South based, Innovative Group to produce two of its Original drama series. The two series that are a part of EORtV's launch line-up in this deal are titled, 'On the Rocks 'and 'Game of the Sexes'.
Renowned film and theatre director, B.M.Giriraj, has been actively involved in both fields for the past 17 years will be directing On the Rocks for EORtV. He has directed six films and three of them (Jatta, Mythri, Amaravati) have won the State, National and International recognitions. Mythri had the luminous cast of Puneeth Rajkumar, Mohanlal, Atul Kulkarni and music by maestro Isaignani Ilayaraja. He has written and directed 12 stage plays and acted in more than 2000 street plays. His novel Kathege Savilla has won the Sahithya Parishad award and his play Sugandhada Seemeyaache has won Nataka Academy award. He has also written and directed Karnataka government's magnum opus Bharata Bhagya Vidhata, a dance musical based on the life of Dr Babasaheb Ambedkar with 75 artists performing on stage and was staged in all 30 districts of Karnataka.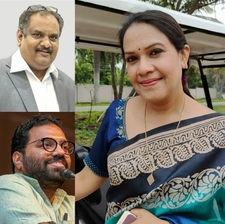 Mr. Saravana Prasad, the Promoter & Chairman of the Innovative Group, is a visionary leader and a leading name in the film & entertainment industry in South India. Upasana Mittal is Innovative Group's CEO and Director. Engaged in film exhibition, distribution & production & entertainment .Innovative Group of Companies owns Innovative Film City. Situated in Bangalore, it offers extensive Studios & content production infrastructure and is a powerhouse of tremendous ideas & concepts. Over 500 films have been shot here and currently, they aim to produce films, reality shows and series in multiple languages including Hindi, Kannada, Tamil, Telegu & Malayalam. The Group also provides state-of-the-art education in Filmmaking at its Innovative Film Academy.
The platform and the content house are keen to create new shows that showcase cutting-edge story-telling. Mr. Saravana Prasad of Innovative Group said, "We are glad to partner with EORtV and contribute to their original content strategy. Our relationship had begun when Dr. Kaushik Izardar was in another company and we are glad that his team at EORtV also saw our potential to execute two shows for them. We hope this slate of two shows is just the beginning of a long and successful relationship with EORtV in our pursuit of creative excellence."
Deepak Pandey, Executive Director of EORtV, said, "We are collaborating with the best talent in the industry on merit and are extremely happy to partner with Innovative Group for two series from our Original's line-up.We believe in good story-telling. With viewers looking for compelling content, we are always looking to push the boundaries to get our content to them. Both series, ' On the Rocks ' and 'Game of the Sexes' will surely appeal to viewers across age-group, geographies and languages.
Directed by Giriraj, 'On the Rocks ' is a contemporary interpretation of the way of life. Life which has been re-defined by present day youth. This is a story about three young women who come to Bengaluru from different parts of India to pursue their respective careers and end up as roommates. The three girls, Meghna, Aafreen and Shruti and the city, Bengaluru's unique characteristics also play a central role in the story. They are all MBA graduates from a very reputed college in India and Shruti is a year senior to them. Known as the Director's favorite, Shruti lands a plum offer at the campus and she's already been living in Bengaluru for a year. Meghna and Aafreen are best friends and roommates in the same college from another batch. They get jobs in Bengaluru and start staying as Shruti's roommates when she offers them a room in the spacious house she occupies.The show follows the lives of these three young, ambitious and starry eyed girls.
Most amazing aspect of the script is that it deals with the conflicting emotions in the personal lives of the characters and their pursuit for success in professional lives as they deal with the complex corporate structure.