"The title is very close to me. When I saw the camera while shooting this show it reminded me of the song Hume aur jeene ki chahat na hoti agar tum na hote from my struggling days. While shooting, it always reminded me of this song which reminds us of our college love and we like to dedicate the song to our love," Dev Singh said.
He is playing the role of Dinkar in ZEE TV show Aggar Tum Na Hote. "He is uncle (Mama) of the lead actor. He loves to call me Kattappa Mama. Our bond is similar to Baahubali and Kattappa. Also, my character is related to my sister Manorma and brother-in-law. Dinkar can do anything for family," he said.
Dev Singh relates to the character because after he heard the character description, it was to play out the relationship between his sister, brother-in-law and his nephew. "I have to play this character one at a time. And I'm sure day by day I will be very close to my character Dinkar," he said about the show produced by Jatin Sethi (Naad Films), Mahesh Pandey (Mahesh Pandey Productions) and Piyush Gupta (Pixx Entertainment).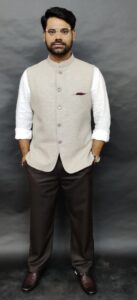 He finds it a pleasure to work with the producers. "I'm very thankful to Mahesh Pandeyji for the role written by him, it's too good. Jatin Sir and Piyush Sir are very kind producers. They have given the freedom to everyone on set," he said.
Meanwhile, the actor, who has featured in shows like Adalat, Bhagya Vidhata, Shani Dev, CID, Savdhaan India and Maharana Pratap, thinks it's very good to see changing content on television.
"Everyone liked the promo (of his new show) because it's different from others. I am also doing this show because of the character I'm playing and also because of the content. Maybe everyone has switched themselves from TV to OTT, so I think that's why the content of TV needs to be changed," he said.
For him, the television industry is a different family altogether. "I had been a part of it earlier so for me it's like coming back home quite often," said the actor, who has also been part Bhojpuri showbiz and done approximately 50 movies in that language.
According to him, the pandemic has been one of the longest nightmares for almost everybody. "But we have the ' NEVER GIVE UP ' attitude which has made us strong enough to tackle this," he said.