Dice Media is all set to launch India's first-ever esports series "Clutch" with Vishal Vashishtha as one of the lead cast.
From being a popular face playing Baldev Singh in 'Ek Veer ki Ardaas Veera' on television to playing the baddie Kabir Sharma in the television series 'Ishq Mein Mar Jawan 2', Vishal, who has charmed the audience with his versatility and on-screen persona, will soon be seen playing the role of a gaming enthusiast in Dice Media's upcoming series 'Clutch'. Showcasing the esports action on-screen, Vishal will also be accompanied by actress Ahsaas Channa, popular content creator Saurabh Ghadge, actors Prateik Pachori, and Tirth Joisher.
Clutch will showcase the perfect blend of gaming, excitement, and cut-throat competition in an esports tournament. Vishal and his squad will be seen sweating it out for a major esports tournament through the course of the series. Hold your excitement until the new episodes are released only on Dice Media.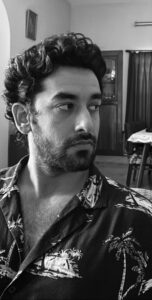 Vishal Vashishtha initially planning on a career as a Chartered Accountant, an interest in acting led him to audition for a career on the Small Screen. Besides English, he is also fluent in Hindi and Bengali.
Vashishtha's foray into Hindi television industry was with Sphere Origins's youth drama Crazy Stupid Ishq in 2013 broadcast on Channel V India as 'Ayaan Dixit'. He later starred in Yash A Patnaik's Ek Veer Ki Ardaas…Veera on Star Plus(2013), portraying the character of 'Baldev Singh' opposite Digangana Suryavanshi. His performance gained him the Zee Gold Award for Best Male Actor in a Comic Role. In 2015, he featured as 'Anil' in the fifth episode of Yeh Hai Aashiqui created by Vikas Gupta and broadcast by Bindass. In the final quarter of 2015, Vashishtha joined the cast of &TV's Television Drama Series Gangaa starring as 'Sagar Chaturvedi' opposite Aditi Sharma, for this performance he was nominated for Best Actor at Zee Gold Awards.