Born and raised in Bengaluru her whole life, Tanya Hope went to London to pursue further studies in International Relations. The Appatlo Okadundevadu actor had no plans of joining showbiz till a beauty pageant changed the course of her life.
"I chanced upon acting after Miss India happened in 2015.  I was one of the five finalists in the pageant. After that, I went for an audition and got the job and have been acting ever since. I didn't plan my career. Since I won the beauty pageant things started falling into place. Now that I'm an actor, I love every bit of this journey. I became an actor by chance and when I started getting opportunities, I started enjoying it all the more. I remember going for the audition of a Telugu film Appatlo Okadundevadu after Miss India and got the film. It was a fantastic experience," she says.
Tanya Hope has worked in more films down South such as Thadam (Tamil), Dharala Prabhu ( Tamil) Disco Raja ( Telugu), Yajamana (Kannada) and  Amar (Kannada).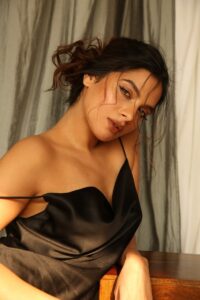 Since she has worked in Tamil, Telugu and Kannada languages, it goes without saying that language was never a barrier for her. "That is because I've lived in Bangalore my whole life. I've been exposed to all these languages so it wasn't difficult to pick up. I learnt Tamil on my first Tamil movie set and by the end of the movie I started speaking it fluently," she adds.
Not just Bollywood, Tanya would love Punjabi films as well. "Doing a Punjabi film will be a challenge to learn as I will have to learn a new language. Even the look and body language for the character I would play would be completely different. I look for that in my career, these kinds of challenges motivate me to do better. That's what makes it so interesting and fun. I think as an actor I just want to keep working, regardless of the language and medium. I would love to do Hindi movies as well, if the opportunity presents itself. As I said, language has never been a barrier for me," she says.
Ask if TV interests her and if she would take part in reality shows like Khatron Ke Khiladi or Bigg Boss and she shares, "I am aware of these shows. As such, I have no intention, but never say never. As an actor one gets a wide variety of opportunities to choose from. Every show or a film has an audience. Thanks to OTT, audiences are exposed to a variety of content."
One thing Tanya often comes across is people's questions about her surname, which is very unique. She laughs before adding, "Yes, everyone asks me if that's really my name. Yes it is, and from where I come from it's not a weird last name to have. It's good to have hope, you see."