Mathematicians say that love is an unsolvable equation, while Einstein says that falling in love has nothing to do with gravity. So what is love? This story will be presented in upcoming movie I PREM U. Southern actress Kayadu Lohar is making her debut in Marathi films with this movie. Kayadu Lohar and Abhijit Amkar is the fresh pair in this movie. I PREM U is going to release in all over Maharashtra on 17th March 2023.
The teaser of the movie I PREM U was launched recently. It sounds like a musical film with tagline 'Feel The Music of The Heart'. The film is produced by Madhukar Gursal and Nitin Kahar of Saishri Entertainment. Nitin Kahar has also written and directed. Cinematography by Avinash Satoskar, music composed by Sanju-Sangram and Yashodhan Kadam.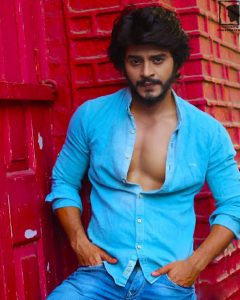 Born in Tezpur of Assam, Kayadu Lohar and currently living in Pune, the actress has acted in southern films. Lohar made her acting debut in the 2021 Kannada film Mugilpete when she was participating in Fresh Face Competition. Her first Malayalam film Pathonpatham Noottandu was released on 8 September 2022. Her film Alluri was released on 23 September 2022. Her upcoming releases include Thaaram, Ajayante Randam Moshanam. Now she is stepping into Marathi film industry with upcoming film I PREM U releasing on 17 March.
Along with her, actor Abhijit Amkar, who is appreciated for his performance in films like Takatak (2019), will be seen in the film. He is also known for Ek Sangaychay (2018) and Tuzyavachun Karmena (2016). He has worked in web series Baby On Board streaming on Planet Marathi from 28 October 2022. It is story of a couple Shruti and Siddharth's journey. Their life goes through a massive change as they are about to embrace parenthood soon. How they manage to tackle the changes in their life with this important event forms the crux of Baby On Board's story.