What maketh a deranged murderer? ShemarooMe Box Office explores this interesting notion with its fifth direct to digital Bollywood release, "Regards & Peace". An irresistible cocktail of suspense, lust and spirituality, the film is refreshingly different from "run of the mill" thrillers that Bollywood is known for. It promises to not compromise on intelligence and deliver an "out of the box" yet enjoyable experience.
Shot in the sparkling green hills of Bhaderwah, the streaming platform's new film tells the story of J, a brooding photographer who gets entrapped by a dark spiral when he spends a night of passion with a seductive married woman, but in a shocking turn of events ends up killing the lady. On wanting to surrender, none of the evidence suggests that he has done the horrific deed he confesses to! The film then unravels a fascinating riddle as it reaches an astonishing climax.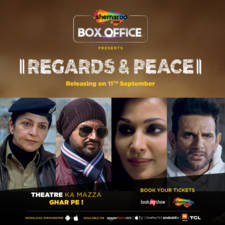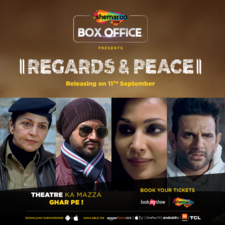 "What an absolute delight it is to enact an unpredictable personality whose mind is an intriguing playground. The plot is filled with unexpected turns that keep gripping the audience further and further", says Prashantt Guptha, playing the lead role of J. "I never imagined that my film will premiere on one of India's most loved streaming platforms, the name Shemaroo has been synonymous with quality and I am glad that "Regards & Peace" will release on ShemarooMe Box Office", he concludes.
Flora Saini, essaying an attractive painter with a past, says, "The best roles are ones where an actor gets to explore different shades, while I come off as a tantalizing beauty in the beginning, as the story progresses one discovers she is not just a pretty face. So many secrets begin to spill out". The Inside Edge star also adds, "The 11th of September will have a special place in my heart, thanks to ShemarooMe Box Office for premiering our film on that date."
Veteran actress Sadhna Singh of Mukkabaaz and Super 30 fame, portraying brilliant police officer Parvati Kumar, shares, "What pulled me towards my character is the calm and composed nature she exudes while a storm brews inside her head. Nothing escapes Parvati's sharp eyes and she is determined to crack any case no matter how muddled". About her film premiering on ShemarooMe Box Office, she says, "Shemaroo Entertainment has been around since time immemorial, always showcasing the best of cinema, it's elating to know that ShemarooMe Box Office will now take this mantle to the digital space. I'm very excited to watch the film on 11th September".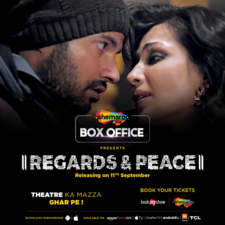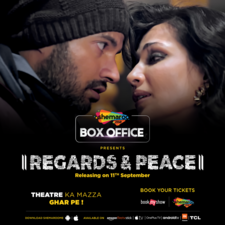 Director Sanjay Amar says, "I've always been a fan of fierce and intense novels where nobody knows what lies ahead. I wanted to bring that crazy page turning vibe to the silver screen and that is how we ended up making this movie, a tale that captures the essence of mysteries and also reinvents the genre." He goes on to elaborate, "The fact that "Regards & Peace" will directly land at the viewer's doorstep thanks to ShemarooMe Box Office is an added bonus. It is great that Indian audiences now have the freedom of choice with the "pay per view" option on ShemarooMe Box Office. One only pays for the film they view, fabulous!".
Talking about changing times and his association with ShemarooMe Box Office, producer Hari Mehrotra asserts, "The audience today is unforgiving, we need to understand they want to enjoy top class content that offers something never seen before. "Regards & Peace" is one such Bollywood movie that is an edge of the seat brain teaser. It will leave you hunting for answers till the final moment. ShemarooMe Box Office is the perfect platform for us to open our innings as its audience truly appreciates good stories. Netizens are in for a real treat on the 11th of September".
Watch Trailer : https://mail.google.com/mail/u/0/#inbox/FMfcgxwJXfppvNPGVcklwgQsfwqsvwXs?projector=1
Having previously secured five back to back successful releases, ShemarooMe Box Office is soaring high on massive buzz, and by the looks of it, "Regards & Peace" is another film all set to rock on the OTT platform.
"Regards & Peace", starring Prashantt Guptha, Sadhna Singh, Flora Saini, Bhakti Kubavat, Arav Chowdharry and Sheena Shahabadi is directed by Sanjay Amar and produced by Hari Mehrotra. It releases on Friday, 11th of September 2020 on ShemarooMe Box Office.