Produced by Ma Ansuya Films LLP and presented by Hemant Nagpure, Marathi film 'Nibandh' muhurt was recently held at the hands of Meghraj Raje Bhosale and Anil V. Kumar at Filmcity in Goregaon, Mumbai. Producers Tejaswini Nagpure, Ashok B. Khode, presenter Hemant Nagpure, director Sanjeev More, actor Ajit Deole, Devendra Ghodke, Siddharth Badve, and child actors Srinivasan Pokle, Atharva Dewan, Arnav Nagpure and others were present on the occasion. The film stars 'Naal' fame Srinivas Pokale.
Maa Ansuya Films LLP banners first film is 'Anusaya Paardasinga Niwasini' and 'Nibandh' is second film. As the title indicates, 'Nibandh' directed by Sanjeev More, will have a story based on school life. It is the story of friendship among three students studying in a school and tell of will throw light on education system.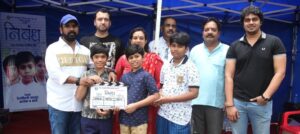 The story is written by director Sanjeev More and this is his fourth film as a director. The lyrics, screenplay and dialogues are by Rajesh Dhawale, music by Ashok Diwan, cinematography by Sujit Vishwakarma and Shodhan Chauhan.
Srinivas Pokale is in the lead role along with Atharva Dewan, Arnav Nagpure, Sayali Dethe, Devendra Ghodke, Siddharth Badve, Prashant Kakkad, Abhay Deshmukh, Vatsala Polkamwar, Shekhar Dongre, K. Atmaram. The shooting will commence in Gadchiroli district.
Shrinivas Pokale who made his debut in Marathi cinema's with Nagraj Manjule's 'Naal' has garnered a lot of accolades for his character in the film. The 66th National Film awards were announced by Rahul Rawail, head of the Jury for feature films. Shrinivas has bagged National Award for best child artist for his debut film 'Naal'.
Sudhakar Reddy Yakkanti has directed the film and the film is being released all over the world on 16 November 2018. The film 'Naal' is the story of an eight-year-old boy Chaitanya who lives in a small village situated on the banks of a river in remote areas of Maharashtra. Srinivas Pokale has played the role of Chaitanya. The role of Chaitanya's father in the film is played by Nagraj Manjule.