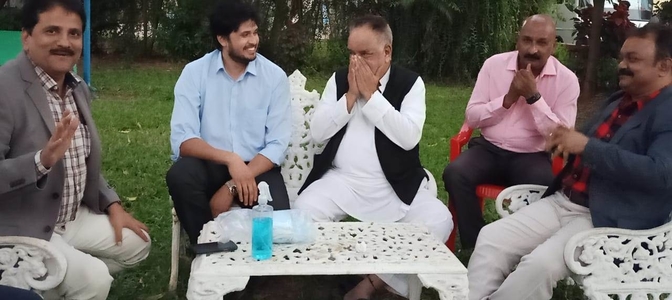 With almost all the things getting unlocked one by one we find a picture of "New Normal" around us. Marathi filmdom is also getting unlocked slowly and we find shooting for films and serials being carried out at various locations. Marathi artists have started working on their projects after many months of anxiety. The shooting for Marathi film "Marathi Paul Padte Pudhe" has been completed recently. Concluding the shooting schedule, the entire team with producer, technicians and artists played a unique game.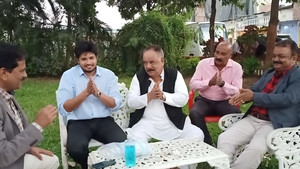 In order to relieve the tense atmosphere on the sets, Producer of the film and eminent Industrialist Prakash Baviskar decided to play a game with the team during free time. Similar to the childhood memories of a game "Mirror-Telephone" where one participant gives an instruction to be followed by another participant with action as fast as possible. Producer Prakash Baviskar suggested a unique game "Mask – Sanitizer" and everyone approved the idea. There were dual objectives behind the concept. One was to get refreshed for next shot and another was to bring about society enlightenment. In this game Producer of the film Prakash Baviskar instructs all the artists to use Mask and Sanitizer and the artists follow him. A video of this unique game being played by actor Chirag Patil, eminent actor Anant Jog, actor Sanjay Kulkarni, and actor Satish Salgare has been placed on the Social Media following the instructions. The objective behind the game is to maintain cordial environment while caring for near and dear ones.
Marathi people should enter the field of business and create a new identity for self is the story line for the film. Producer Prakash Baviskar himself is an eminent industrialist and he is venturing in the film production with this presentation. Chandrakant Vispute from Akat Distribution is Co-Producer with Swapnil Mayekar is the Director of the film. Actor Chirag Patil is an illustrious son of eminent Indian Ex-Cricketer Sandeep Patil who is playing the role of Sandeep Patil in vividly discussed Bollywood film 83. He is playing the lead role in this film "Marathi Paul Padte Pudhe" as well. Eminent actress Siddhi Patne will be seen in the main lead role with Chirag, whereas senior actor Anant Jog is playing villain in the film. Important key roles are being played by actors Sanjay Kulakarni and Satish Salagare. Although shooting for the film has been completed the dates for release of the film are still under cover.