The new poster of the '68th National Film Award 2022′ winner 'Goshta Eka Paithanichi' has been unveiled. The film is a journey of a housewife in an ordinary family. The film stars Sayali Sanjeev, Suvrat Joshi, Mrinal Kulkarni, Milind Gunaji, Shashank Ketkar in lead roles. Recently, the grand premiere of this film was held at Singapore. Now soon on 2nd December this movie will be released in Maharashtra.
Akshay Bardapurkar, Head and Founder, Planet Marathi says, "The film which has been in the news for a long time is now coming to the audience. Recently 'Gosht Eka Paithnichi' won the National Award. A few days ago, we premiered the film in Singapore while the response was positive. We got a great response from the audience there. This unexpected response was overwhelming for us. We hope to get a similar response in Maharashtra too."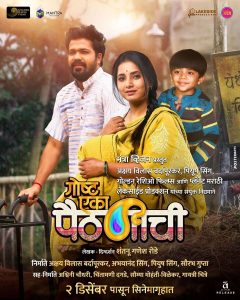 The director of the film Shantanu Rode says, "Everybody has a dream in their heart and strives hard to fulfill it. Sometimes it succeeds, sometimes it fails. It will be seen the unusual journey of a housewife who has simple dream to buy one Paithani saree. 'Gosht Eka Paithnichi' is a family movie that teaches many things without realizing it."
The movie GOSHTA EKA PAITHANICHI is written and directed by Shantanu Rode who has also written the dialogues. The film is produced by Akshay Vilas Bardapurkar, Abhayanand Singh, Piyush Singh and Saurabh Gupta. Ashwini Chaudhary, Chintamani Dagde, Soumya Mohanty Vilekar, Gayatri Dilip Chitre are the co-producers of the film. Presented by Mantra Vision, the film is produced by Akshay Vilas Bardapurkar, Piyush Singh, Golden Ratio Films and Planet Marathi, Lakeside Productions.
Shantanu Ganesh Rode is known for his debut movie as director Jayjaykar (2014). He has written the screenplay and dialogues of Tinhi Sanja (2009). He is also known for Hari Om Viththala, Palakhi, Babu Band Baja, Agadbam, Hanuman for which Shantanu wrote dialogues and screenplay.