Like Hindi and English films, now the race to release new films in Marathi and score at the turnstiles has also begun in full force. The film Ek Number directed by Takatak fame Milind Kavde, which has become talked about amongst the viewers a lot after its motion picture poster was unveiled on social media, is also all set to release on 28th January 2022.
The film Ek Number has been produced by Mahesh Shivaji Dhumal, Jitendra Shivaji Dhumal and Milind Kavde under the banner of Dhumal Productions in collaboration with Out of The Box Films. The expectations about the box office collections of the film Ek Number have increased manifold at the turnstiles, especially since the Marathi film Takatak also directed by Milind Kavde had altered the box office records held till 2019. There is a lot of excitement about the film thanks to the favorable reports in the media for Takatak. Though the unveiling of the motion Picture poster of the film Ek Number had triggered off a lot of excitement about the film Ek Number, now the audience does not need to wait for a longer period to watch the film. Like the out and out entertainer that Milind Kavde had directed earlier, the viewer will be able to see a plot comprising out and out entertainment in Ek Number also. While the story and the screenplay of Ek Number have been penned by Milind Kavde, the dialogues for the film have been written by Sanjay Navgire.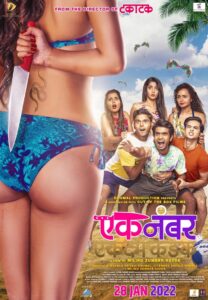 Talking about his film Ek Number, Milind Kavde states, "With this film, I have been able to come up with a film like Ek Number with money back guarantee once again. The characters in the film will trigger fond memories of people they know in their day to day life among all kinds of viewers, whether they are old or young and I guarantee that they will be able to relate easily with them. Milind Kavde also is confident that the film will be liked by the viewers for its positive and hope filled plot coupled with melodious songs and soothing music. Once again Prathamesh Parab is playing the main lead in this Milind Kavde film, while Milind Shinde, Ganesh Yadav, Nisha Parulekar, Abhilasha Patil, Ayli Ghiya, Hrishikesh Dhamapurkar, Akshata Padgaonkar, Pranali Sanghmitra Dhaware, Sumit Bokse, Sunil Magre, Harish Thorat, Aakash Koli etc, have displayed their prowess as far as acting is concerned. While Sanjay Navgire and Sunil Magare have assisted in the writing of the screenplay, Hazrat Shaikh Wali is the D.O.P. Varun Likhate has set to tune the lyrics penned by Jay Atre. Abhinay Jagtap has scored the background music while editing has been done by Pranav Patel.