After the release of the hilarious trailer of the movie 'Dhondi Champya: Ek PremKatha', now the amazing songs of the movie have also come to the audience. The music launch of 'Dhondi Champya: Ek PremKatha' was held in Mumbai. The entire team of the film including actors Bharat Jadhav, Vaibhav Mangle, Nikkhhil Chavaan were present on this occasion.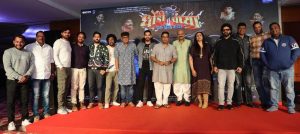 There are three songs in this film and each song is from a different genre. Avadhoot Gupte, Vaishali Samant and Saurabh Shetye have voiced the song 'Swagwala Reda' with lyrics by Ganesh Nigde. The romantic song 'Halke Halke Reshmi' has been penned by Guru Thakur and sung by Saurabh Shetye and Sana Moidutty. While the love story of Dhondi and Champya is unfolding on one side, the love story of Aditya and Ovi is also blossoming on the other side in the song. The song 'Shwaas Kasa Ha' written by Mandar Cholkar is sung by Saurabh Shetye and Sana Moidutty. All these songs are composed by music director duo Saurabh-Durgesh. The choreography has been done by Sujit Kumar and Siddhesh Dalvi.
About the songs in the film, director Gnyanesh Bhalekar says, "Each song is saying something, expressing some emotion. Our music team is perfect, so each song is unique. The song 'Swagwala Reda' is fun to watch and also to listen. Just as the audience responded to the trailer we are sure the audience will like the music and will give great response to songs as well."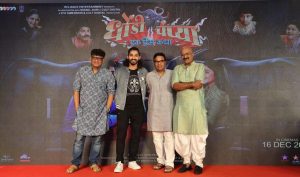 Presented by Reliance Entertainment in association with Sunil Jain and Cult Digital, the film 'Dhondi Champya – Ek Prem Katha' produced by Fifth Dimension and Cult Digital is inspired by a short story by Prabhakar Bhogle with story, screenplay, dialogues by Gyanesh Bhalekar and Sagar Kesarkar. Sunil Jain, Aditya Joshi, Venessa Roy, Aditya Shastri are the producers and Amit Awasthi, Sushant Vengurlekar are the co-producers.
The film stars Bharat Jadhav, Vaibhav Mangale, Nikkhhil Chavaan, Sayli Patil along with Sneha Raikar, Shalaka Pawar, Kamalakar Satpute, Sayli Sudhakar, Prashant Vichare, Prabhakar More, Samir Choughule and Nandkishor Choughule. Dhondi Champya: Ek PremKatha will be released on December 16.